WhatsApp has been a game changer in the field of communication, completely changing the way people engage with one another. It has become an essential part of our daily life due to its user-friendly interface and extensive feature set. But wait, there's more! Official IRCTC e-Catering partner, Zoop India, has recently launched a WhatsApp Train Service that caters to essential train needs, from hassle-free food ordering from top restaurants to checking your PNR number to stay ready for travel. 
Imagine yourself on a long-distance train journey with no idea what to eat or where to get food. This is where Zoop India's new WhatsApp service comes in handy! You may access a myriad of culinary options with only a few taps on your phone, making your journey more enjoyable and gratifying.
The integration of Zoop India with the WhatsApp platform makes ordering meals on trains a simple process. Simply tell the Zoop chatbot your departure point, destination, and cuisine preferences, and it will present you with a list of delectable options to choose from. You can then go ahead to place your order directly over WhatsApp!
The service also caters to the passengers' dietary preferences, and provides an extensive range of food choices. From vegetarian to non-vegetarian options, regional delicacies to international cuisines, Zoop India has something for everyone.
How to order food in train on WhatsApp with Zoop
The ordering process is pretty straightforward. Zoop provides a WhatsApp chatbot service named Ziva that streamlines the ordering process. Ziva will assist you in choosing a restaurant and placing your online food order on train, after you share your PNR number and choose an upcoming station. Real-time order tracking makes sure that your food will be waiting for you at the following station. Send a "Hi" to Zoop on WhatsApp at +917042062070 to order food in train on WhatsApp.
Read more: Turn WhatsApp into "Magic Genie" for a fun train journey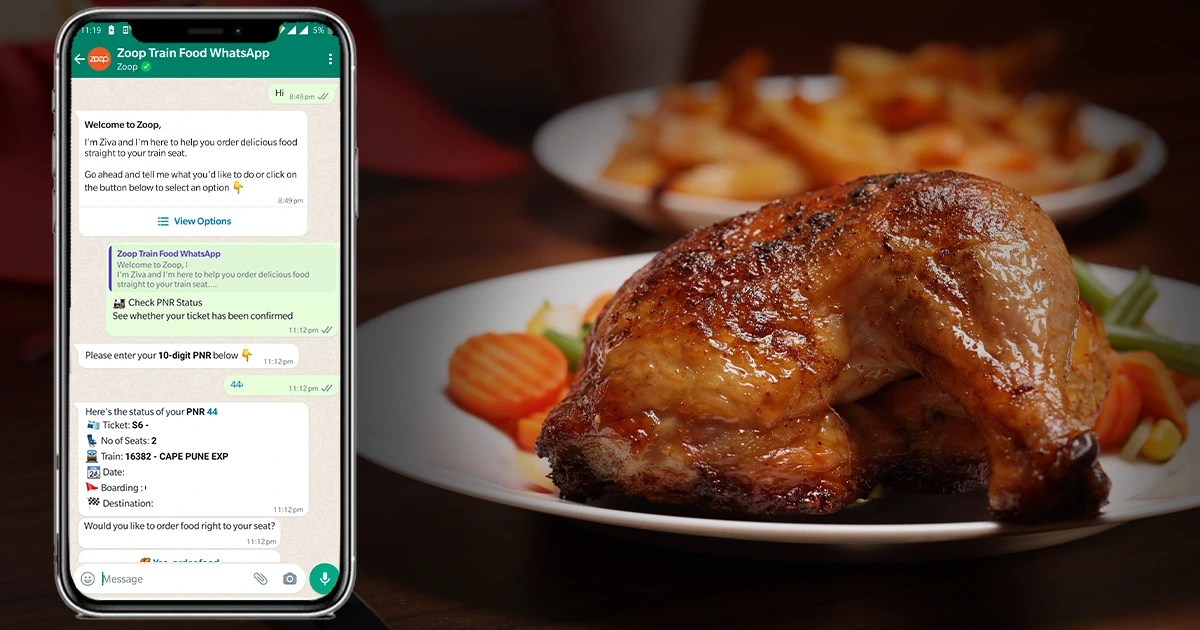 Use WhatsApp to check your PNR status with Zoop
The Passenger Name Record, or PNR, is an important part of train travel. It is a one-of-a-kind identity provided to each passenger and is used to purchase tickets, verify ticket status, and issue refunds. Zoop's WhatsApp service makes verifying the PNR status of a railway ticket a breeze. Simply send a "Hi" message to Zoop's WhatsApp number (+91 7042062070), and the service will respond with a variety of possibilities. Select 'Check PNR Status', enter your 10-digit PNR number, and receive your PNR status immediately! Train passengers may now check their PNR status fast and easily using this user-friendly service.

Benefits of using Zoop, the new WhatsApp-based train service
Here are some features that make Zoop extremely user-friendly and a reliable travel buddy for all train passengers!
Pre-order your meals
It is critical to schedule your meals ahead of time while traveling large distances by train. You can purchase food online and have it delivered to your seat at a convenient time during your trip with Zoop. Zoop provides a variety of options, ranging from Indian meals to snacks and beverages, so you may find something to fit your taste and preferences. 
Reliable meals
When ordering food in train, it's important to choose healthy options that will keep you energized and hydrated throughout your journey. Zoop offers a variety of nutritious options, from salads to fresh juices, so you can stay healthy and refreshed while traveling. Additionally, all the restaurants on the Zoop India platform are FSSAI-approved, which means your food will be arriving only from restaurants that follow strict-hygiene protocols.
Try local delicacies along the way
One of the most enjoyable aspects of traveling is discovering different cuisines and regional delicacies. Zoop allows you to order regional dishes and discover the flavors of the areas you visit. Zoop serves a variety of regional dishes, from biryanis, dosas and regional platters or Thalis, that are sure to satisfy your taste buds.
Set dietary preferences
When you order food in train with Zoop India, you can also define your dietary preferences. Zoop can accommodate your demands and give you food options that fit your preferences, whether you are vegetarian, vegan, or have specific dietary requirements. Click here to order Jain Food in train with Zoop: https://www.zoopindia.com/jain-food-in-train.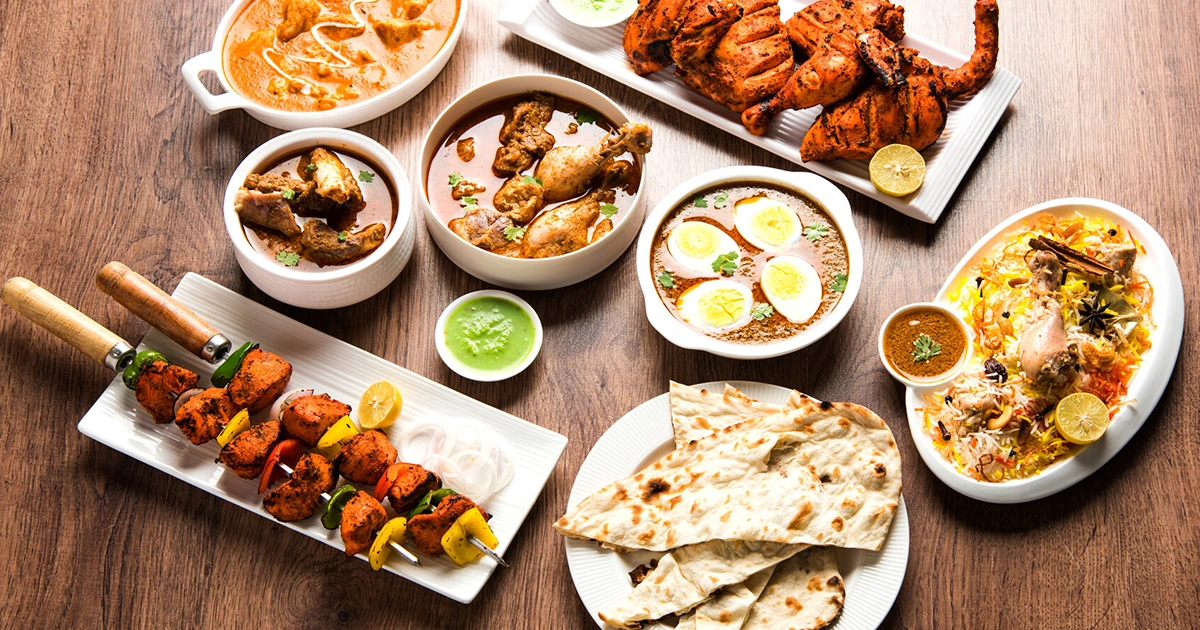 Order food in bulk
When traveling in a group, ordering meals on train can be difficult. You can place one order for the entire party and have it delivered to your seats using Zoop's group order option. This makes ordering meals on train quick and easy, saving you time and effort. Click the link to place your Group Order: https://www.zoopindia.com/group-food-order-in-train.
So next time you are traveling by train, don't forget to order food in train on WhatsApp via Zoop from top-rated restaurants along your route! You can also make your journey more convenient by checking your PNR status using the service. So what are you waiting for! Make your journey more fun and hasslefree with Zoop!