Zoop's Google Chat: Zoop, India's First Food Service with Google Chat feature enabling passengers to order food in train, check PNR, check train status, and other features of Zoop India!
Introduction
In an era of technological advancements, Zoop India, the authorized train food aggregator of IRCTC, has introduced an innovative feature that brings convenience and efficiency to train passengers. With the integration of Google Chat, Zoop now allows travellers to not only check their PNR status but also order their favourite food on train, all through a simple conversation with an automated intelligent chatbot. This seamless integration of services aims to enhance the overall travel experience for passengers across India.
Read more: The Indian Express: How-to-use-zoop-new-google-chatbot-for-train-food-delivery
Features
The Google Chat Bot by Zoop offers an array of features that simplify train travel for passengers. The integration brings together the convenience of Google Chat and the efficiency of Zoop's services. Here's what you can do with this intelligent chatbot:
Order Food on Train on Google: 
Passengers can now indulge in a delightful culinary experience while travelling. With Zoop's integration of Google Chat, ordering food on the train becomes effortless. The chatbot presents passengers with ease of accessing Zoop's variety of delectable meal options from a wide range of cuisines. Whether you're craving a piping hot biryani or a wholesome sandwich, Zoop has you covered. Simply chat with the Google bot, select your desired meal, provide your train details, and enjoy a delicious meal delivered right to your train seat.
Check PNR Status on Google: 
No more hassle of visiting multiple websites or waiting in long queues to check your PNR status. The Zoop chatbot integrated with Google Chat allows passengers to effortlessly inquire about their PNR status. By simply initiating a conversation with the bot and providing your PNR number, you will receive real-time updates on your reservation status. This feature ensures that you stay informed about your journey without any inconvenience.
Track Food Orders on Google: 
With Zoop's Google Chat integration, passengers can easily track their food orders too. Once you've placed an order, the chatbot provides you with regular updates on the status of your meal. From the preparation of the food to its delivery at your designated station, so you can stay informed at every step of the process. This transparency allows passengers to plan their meals and anticipate their arrival time accurately.
Raise Complaints on Google: 
In the unlikely event of a concern or issue with your train food order, the Zoop chatbot is equipped to handle complaints efficiently. By initiating a chat and explaining your concern, the bot will promptly address and resolve any problems you may encounter during your journey. The seamless communication ensures that your grievances are heard and resolved promptly, enhancing the customer satisfaction.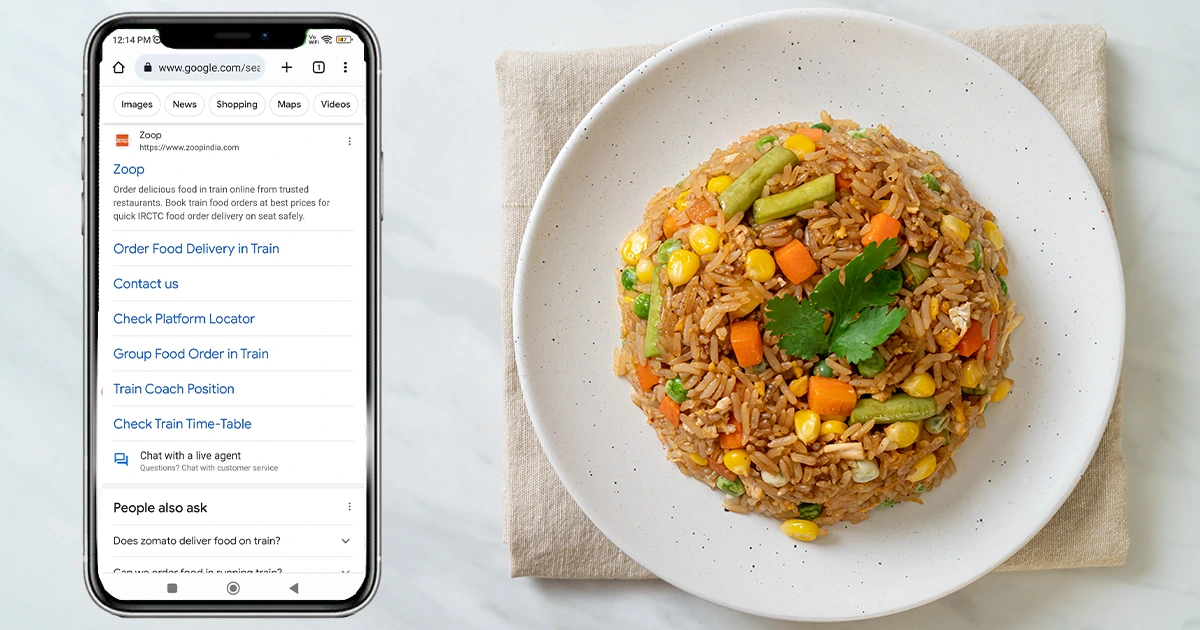 Here's how to use Zoop's Google Chat 
Using the Google Chat bot by Zoop India is simple and straightforward. Follow these steps to access the services and make the most of this innovative feature:
– Type 'Zoop' on Google search to find the official Zoop India website.
– On the company details page, locate the 'Chat with Live Agent' button.
– Click on the chat button, and an automated bot will immediately start assisting you.
– Begin the conversation by selecting the desired service—whether it's ordering food, checking PNR status, tracking food orders, or raising complaints.
– Follow the prompts provided by the chatbot and provide the necessary details to complete your request of ordering your food in train, checking PNR status, or live updates on your food order or train status, etc.
To understand it better, you can also watch this reel on the instagram page about India's First Food Service with Google Chat feature, Zoop! Click here to watch the reel: Zoop's Google chatbot.
Read more: Express Techie on Twitter: How to use Zoop's new Google ChatBot for seamless Train Food Delivery
Conclusion
Zoop India brings a new level of convenience to train passengers across the country with it's Google Chat convenience. By leveraging the power of automated intelligent chatbots, Zoop enables travelers to order their favorite food on the train, check their PNR status, track food orders, and raise complaints seamlessly, ensuring passengers a delightful dining experience and stay updated while on their train journey with ease. With Zoop, train travel has never been more convenient.
So, the next time you embark on a train journey, remember to make the most of Zoop and it's Google Chat. Enjoy delicious food in train, stay updated with your PNR status, and experience travel made easy, all at your fingertips.
Stay updated with zoooindia.com for more such features, services and benefits.