If you're traveling on the Andhra Express and looking for delicious food options during your journey, you're in luck! Zoop, the official food aggregator appointed by IRCTC, allows you to order quality food in train AP EXPRESS online.
Top 5 restaurants along the AP Exp. route to order tasty and hygienic meals on train from:
1. Kanhaji Restaurant (Visakhapatnam Station)
Rating: 4.5 | Minimum Order: ₹100
Cuisine: Punjabi, North Indian, Mughalai, Chinese, Fast Food, Continental
With a high rating and a diverse menu, Kanhaji Restaurant is a popular choice at Visakhapatnam Station. Whether you're craving Punjabi delicacies, flavorful North Indian dishes, or mouthwatering Chinese cuisine, Kanhaji Restaurant has got you covered.
2. Jai Jagannath Restaurant (Visakhapatnam Station)
Rating: 4.3 | Minimum Order: ₹120
Cuisine: North Indian, Chinese
For authentic North Indian and Chinese flavors, Jai Jagannath Restaurant is a go-to option. This restaurant offers a variety of dishes that will satisfy your taste buds. Don't miss the opportunity to try their popular specialties.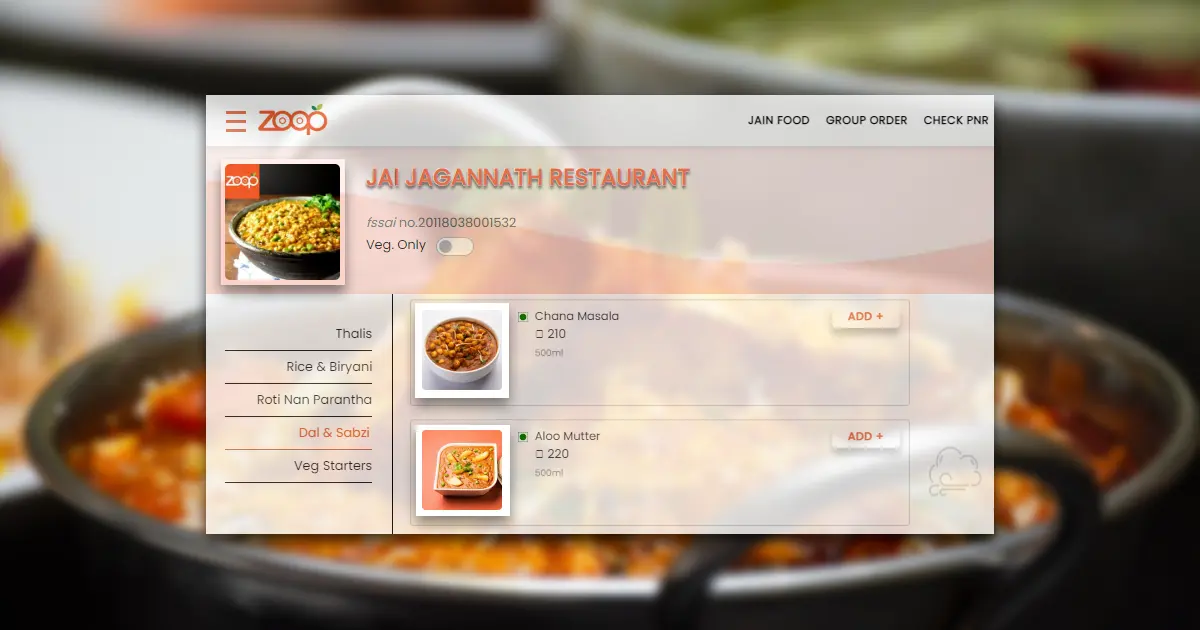 3. Swastik Pure Veg Restaurant (Bhopal Jn Station)
Rating: 4.4 | Minimum Order: ₹99
Cuisine: Chinese, North Indian, Punjabi, South Indian, Mughlai, Maharashtrian, Bengali
Located at Bhopal Jn Station, Swastik Pure Veg Restaurant offers a delectable array of North Indian, Punjabi, and Chinese dishes, amongst other popular cuisines. With a high rating, this restaurant guarantees a satisfying culinary experience. Indulge in their flavorful dishes and enjoy a delightful meal during your journey.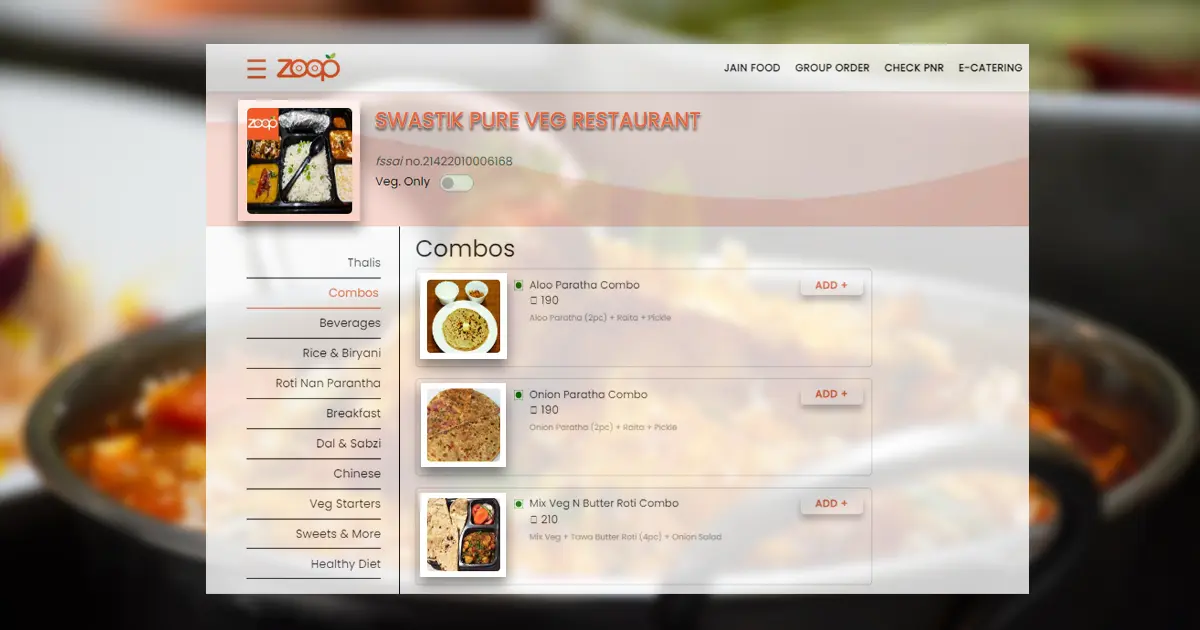 4. Dipanshu Restaurant (Balharshah Station)
Rating: 4.2 | Minimum Order: ₹99
Cuisine: Jain (JAIN FOOD AVAILABLE), North Indian, Chinese, Punjabi, Mughalai, Fast Food
Dipanshu Restaurant is a great option for those seeking Jain food in train along with North Indian and Chinese cuisines. Their menu caters to different dietary preferences, ensuring that everyone can enjoy a delicious meal. Don't forget to try their mouthwatering Jain dishes.
5. Novelty Restaurant (Nagpur Station)
Rating: 4.6 | Minimum Order: ₹1
Cuisine: North Indian, Punjabi, Mughalai, Chinese, Fast Food, Maharashtrian
At Nagpur Station, Novelty Restaurant stands out for its excellent ratings and diverse menu. From North Indian and Punjabi delights to Mughalai and Chinese delicacies, this restaurant offers a variety of options. Be sure to explore their menu and savor their flavorful dishes.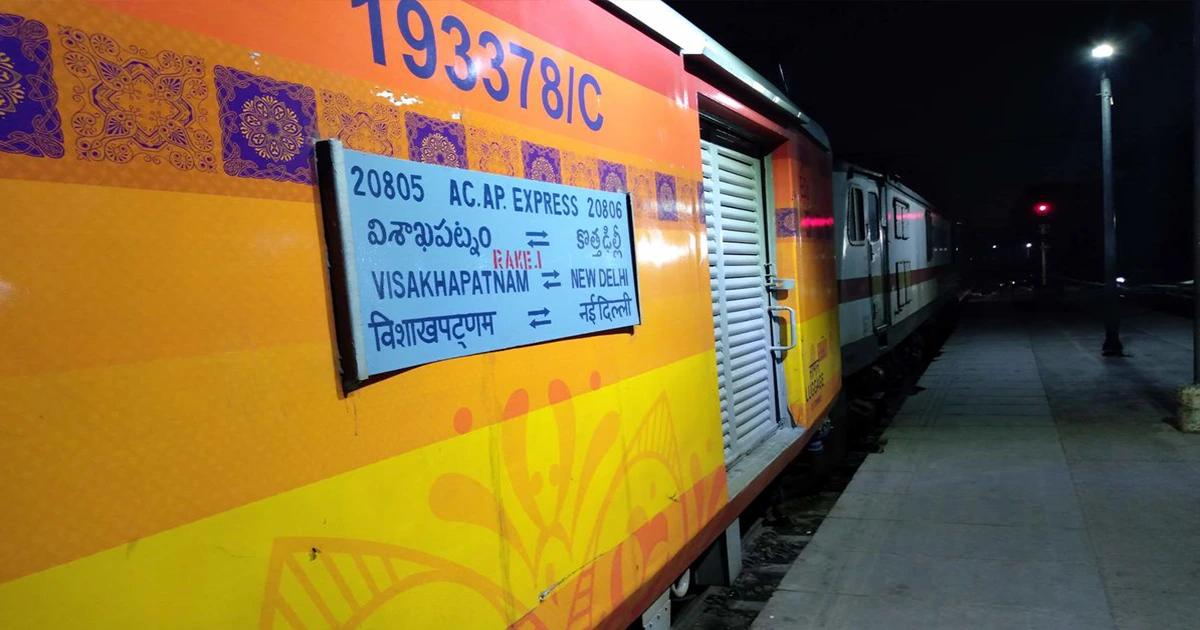 How to Order Food in the Andhra Express with Zoop India:
Visit the Zoop India website or download the Zoop Android App or iOS App.

Select "Train Name/No." and enter "AP EXPRESS" or train number "20805" in the search box.

Choose the desired restaurant from the list displayed that will include the top 5 restaurants mentioned above.

Create your order by selecting food items from the menu.

Apply available discount codes or offers according to your order.

Choose your payment method: online or cash on delivery.

Your order will be delivered to your seat when the train arrives at the chosen railway station.
Please note that these restaurants have been approved by IRCTC e-Catering and adhere to hygiene and compliance standards.

About Zoop India
Zoop India is a popular online delivery service based in India for ordering tasty and fresh meals on train. Zoop, which was founded in 2015, has quickly become one of the most popular "food in train" delivery services in the country for train passengers, offering users a convenient method to order food from their favorite eateries.
Zoop's user-friendly platform is one of its most notable features. Customers can quickly navigate menus, place orders, and track deliveries in real time. The platform also provides a variety of payment alternatives, such as cash on delivery, online payment, and mobile wallet payments.
Zoop has partnered with thousands of restaurants to provide train passengers with a diverse selection of cuisines and foods. Zoop also provides users with a range of promotional discounts and cashback deals, making it a popular choice for budget-conscious foodies.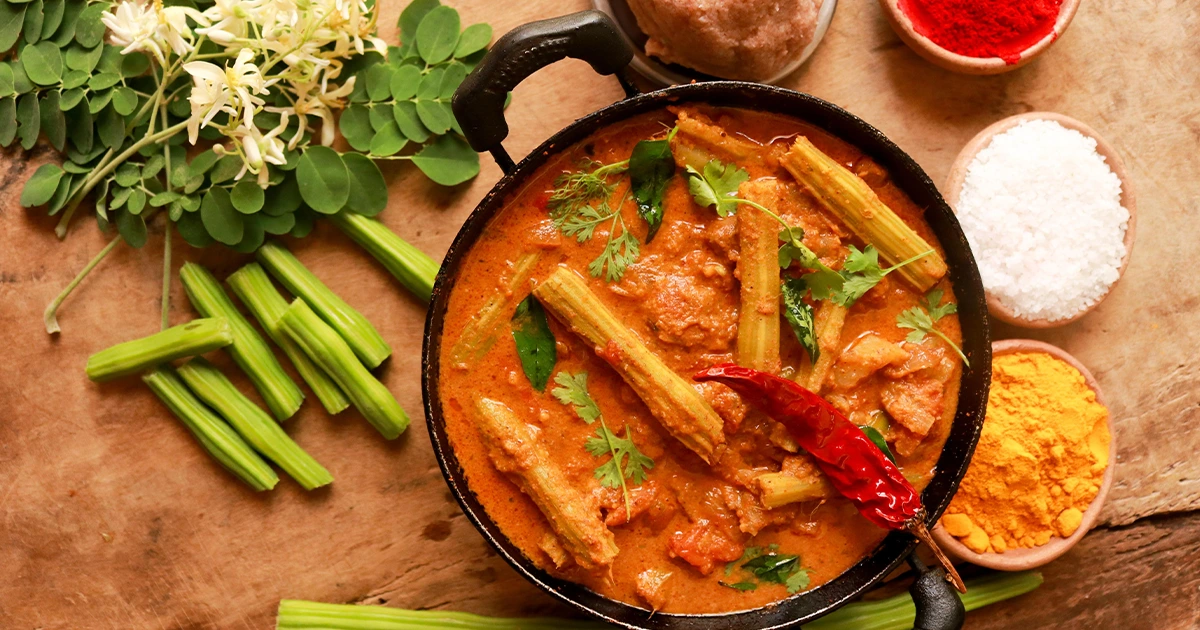 Zoop is devoted to maintaining excellent health and safety standards, in addition to a focus on customer satisfaction. It has strong hygiene measures in place to ensure that all food is made and delivered in a safe and sanitary manner.
Conclusion
Ordering food in train online in the Andhra Express is now a hassle-free experience with Zoop India. Enjoy a delightful culinary journey during your train travel with these top restaurants along the route. Bon appétit!