Commonly for many years, the train passengers have been ordering food on a train, relying on the pantry car which frequently provided passengers with limited options and of questionable quality. Passengers couldn't always get a variety of tasty and hygienic meals during their train journeys, which meant having to start checking various railway stations along the route for something preferable for themselves or family members.
Indian Railways has launched IRCTC e-Catering services and partners to provide passengers with restaurant-style food options while traveling. This service solves many problems for various passengers all around the country and is a great alternative to the train pantry car. The most reliable and easier IRCTC e-Catering partner is Zoop! It serves a variety of meal options, including North Indian, South Indian, Chinese, Continental, and everything you are looking for. Passengers can also choose between pure vegetarian, pure Jain food as well as non-vegetarian options, ensuring there is something for everyone.
Zoop India is IRCTC's official e-Catering partner that allows passengers to order food from top-rated restaurants along their route, straight to their train seat.
Here are the steps to follow to get your food delivered directly to your seat hassle-free via Zoop through their website.
Order food online on train with Zoop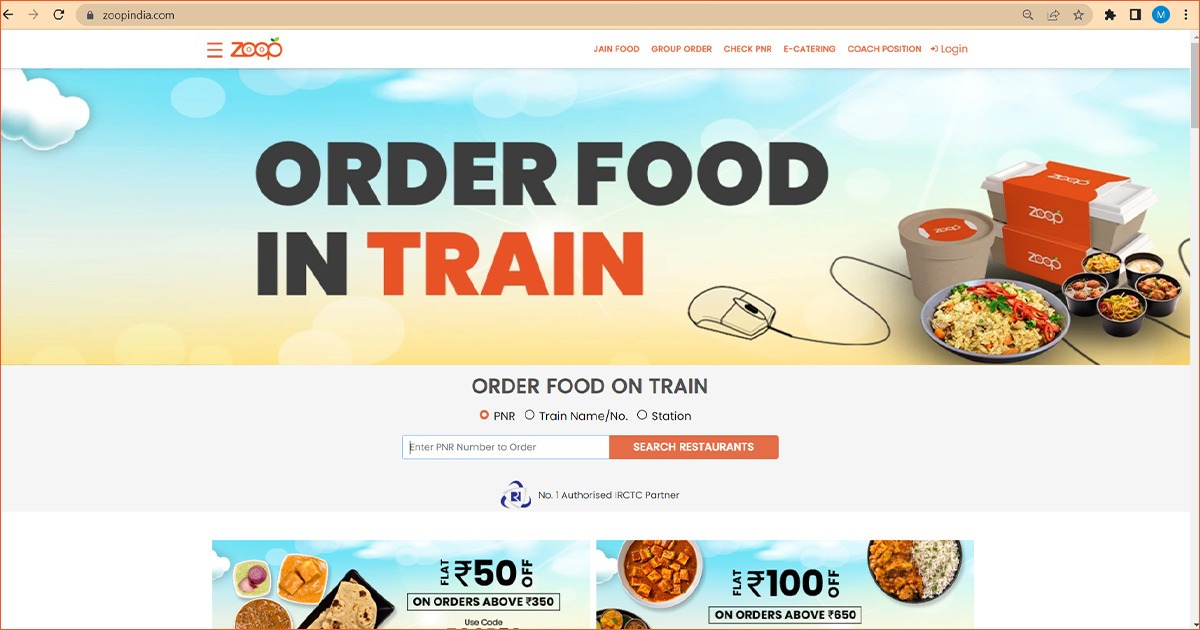 2. In the search box, enter your 10-digit PNR number, or select the station or train where you want food delivered.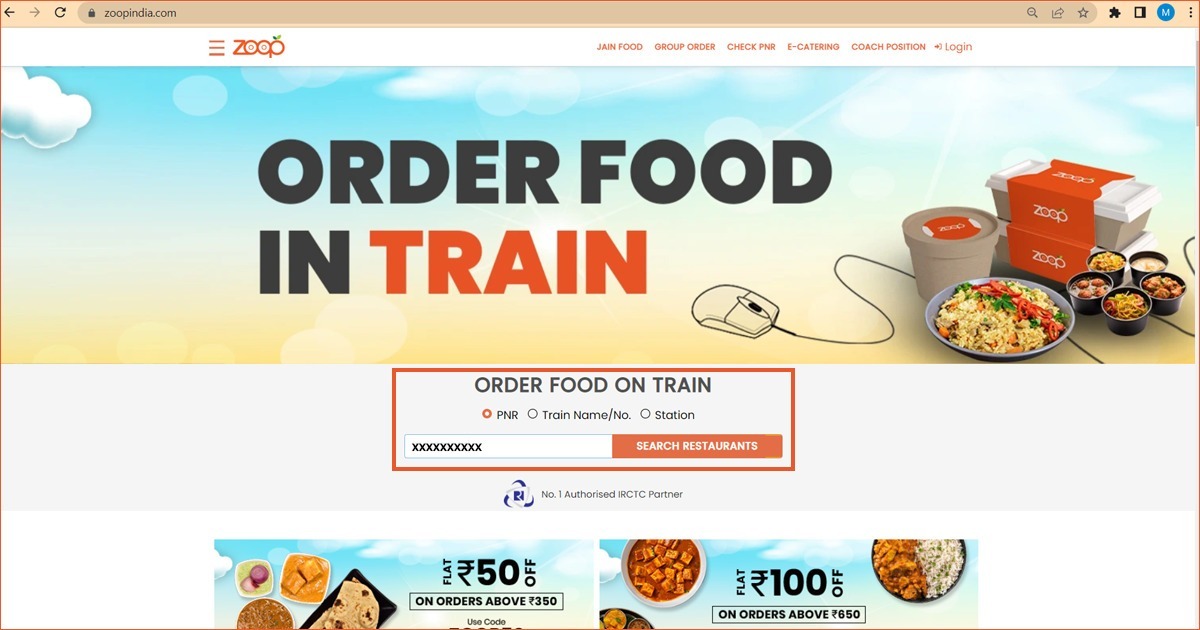 3. On each station, you will find a list of stations as well as available restaurants. This will assist you in selecting a top-rated restaurant that offers your favorite meal as per your preferences.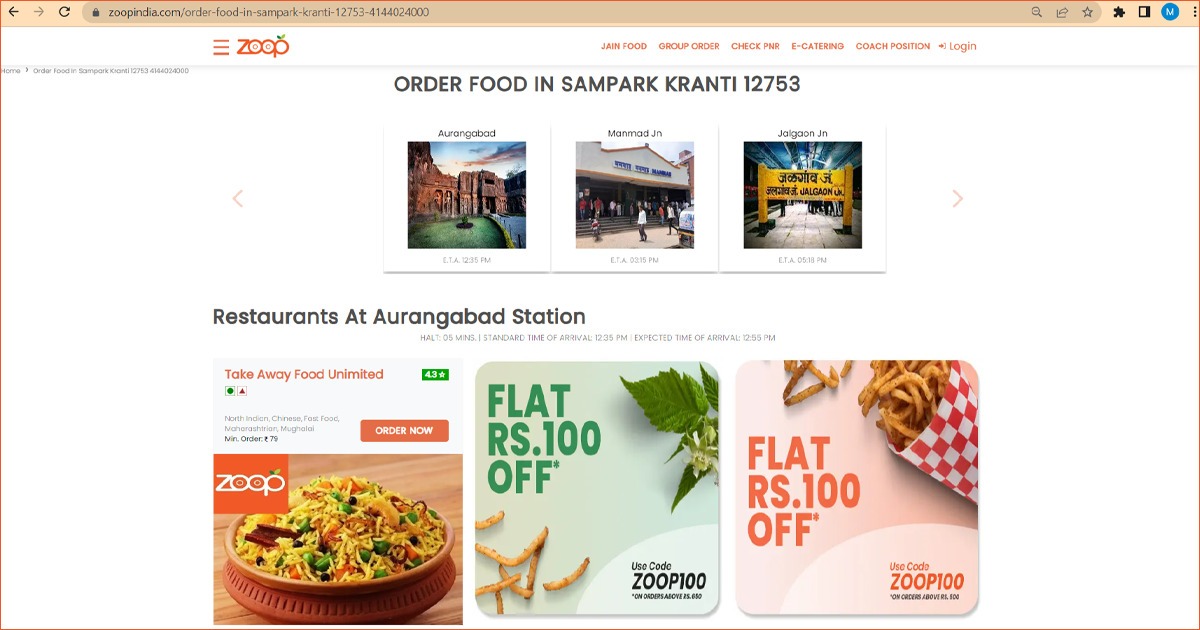 4. Once you've decided on a restaurant, you can browse the extensive menu to select your desired food options.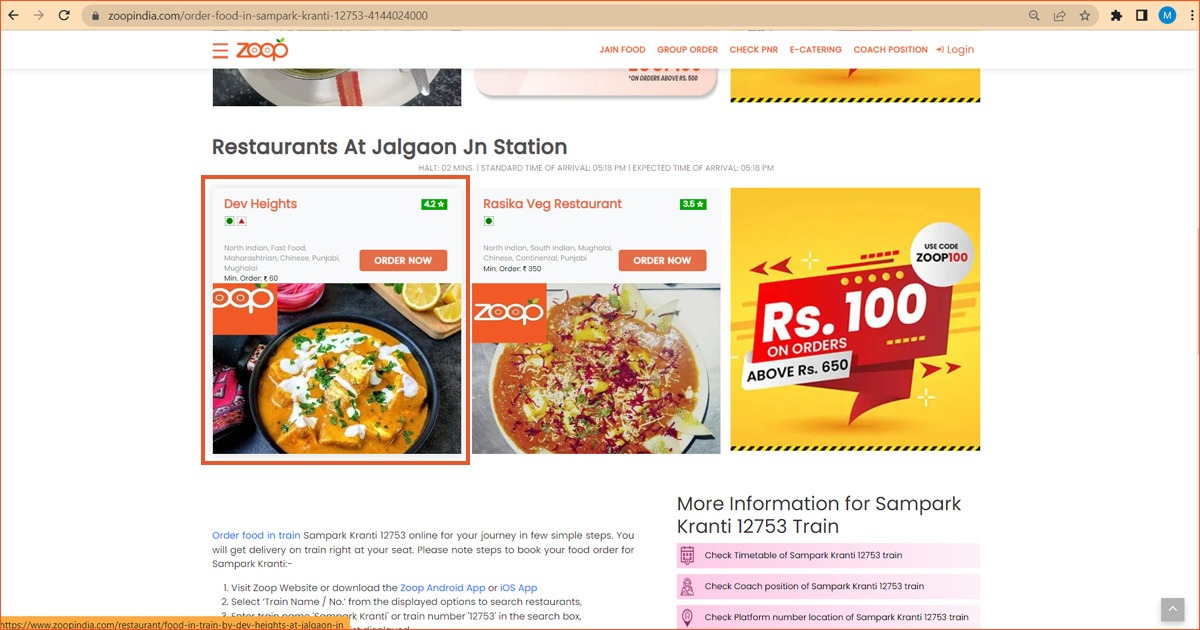 5. Add the food items to your cart.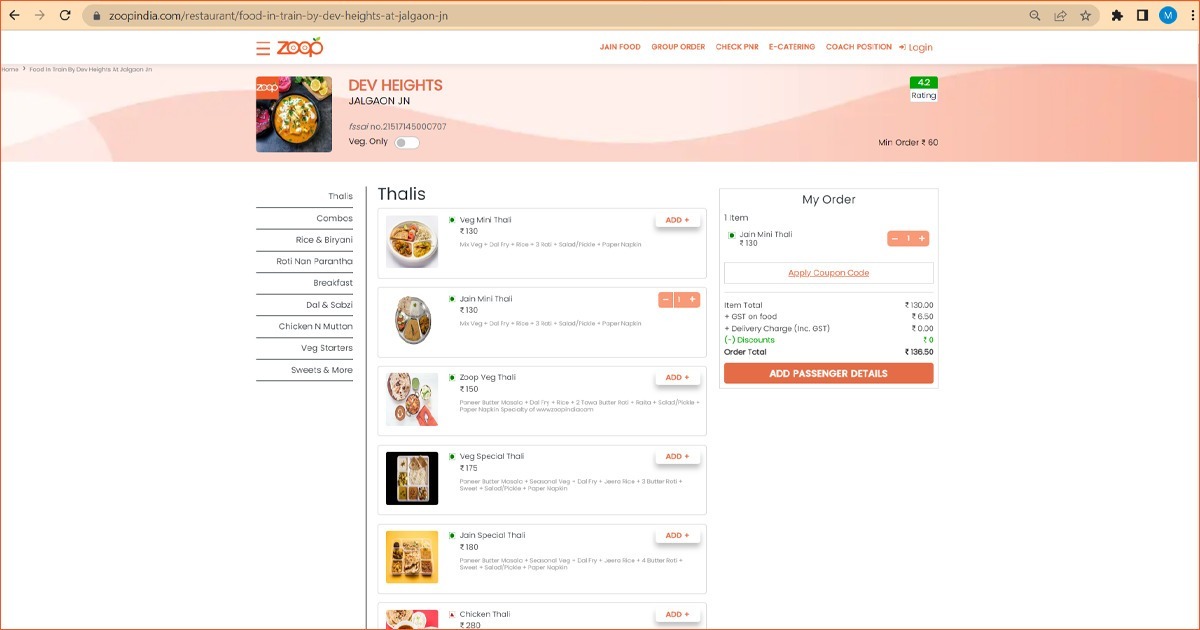 6. Enter your name and contact information.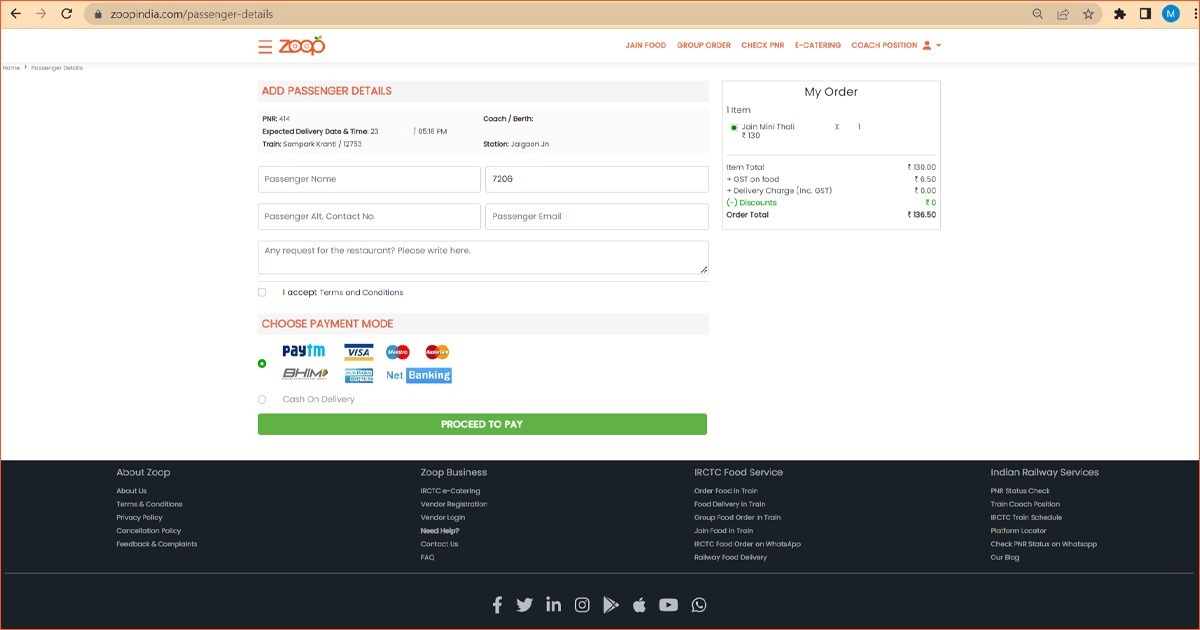 7. After you've confirmed your order, you can pay securely online or you can choose to pay at the time of delivery. Your order will be delivered to your train seat.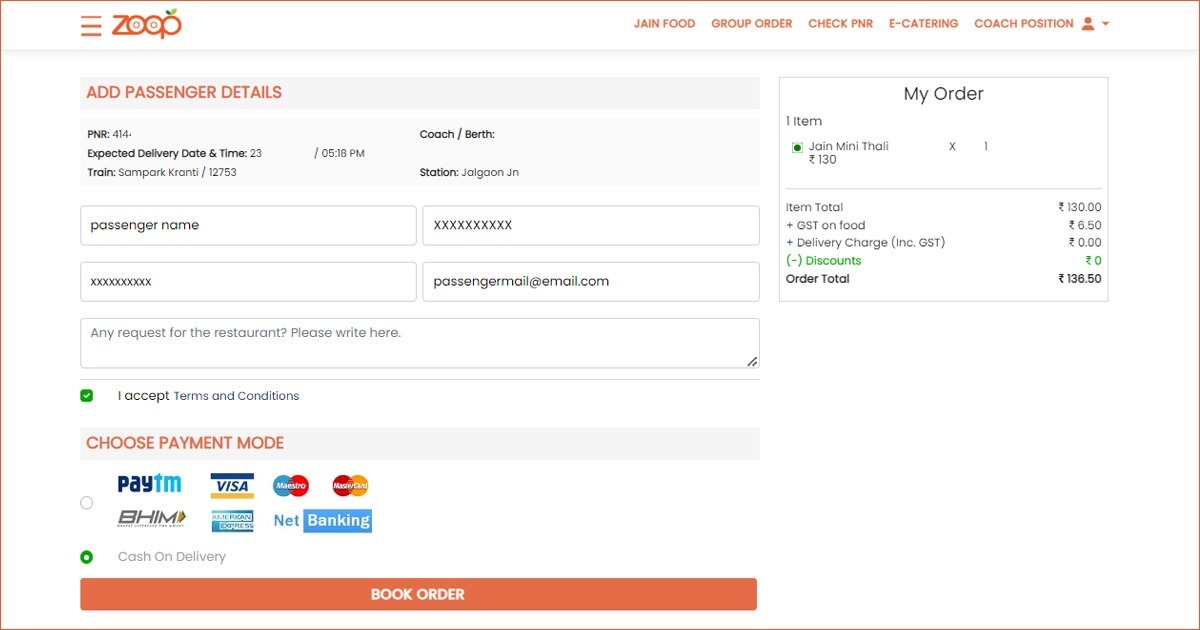 Zoop also offers another highly convenient way to place your order. It can now be ordered through the most commonly used application for communication, WhatsApp!

Read more about How To Order Food in Train on WhatsApp!
Yes, you heard that right! You can now order food on your train journey with WhatsApp, thanks to Zoop!
Order food on train using WhatsApp
The process is pretty straightforward. Zoop provides a WhatsApp chatbot service named Ziva that streamlines the ordering process. Ziva will assist you in choosing a restaurant and placing your online food order on the train, after you share your PNR number and choose an upcoming station. Real-time order tracking makes sure that your food will be waiting for you at the following station. Send a "Hi" to Zoop on WhatsApp at +91 7042062070 to order food in train on WhatsApp.
Ordering food online on the train not only opens the gateway to endless food choices on the train but also provides a convenient way to enjoy a hygienic and tasty meal on your journey.
To make your online food ordering experience even more enjoyable, here are some useful tips. 
Tips for ordering food online on the train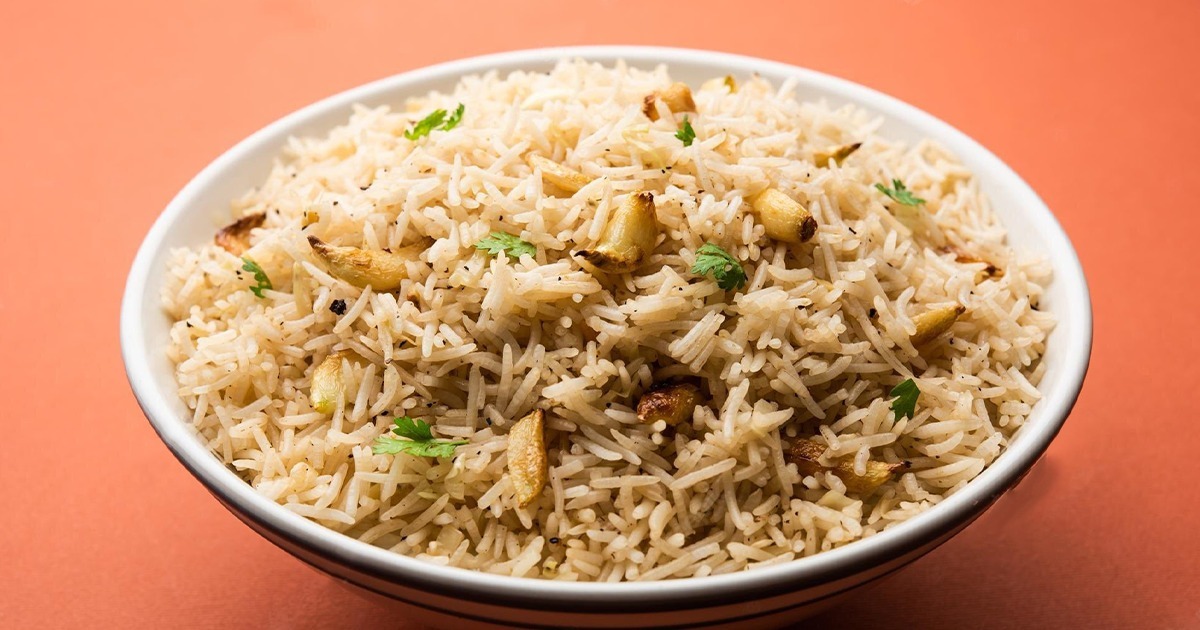 1. Plan in Advance
It is highly recommended that you plan and book your meals in advance to ensure that you do not miss out on any of the delicious food options and local specialties available on your train journey. If you wait until you're on the train, you may miss out on some of the amazing food options and city specialties because you may have already passed some of the stations where more options were available.
2. Look for Offers and Discounts
When placing orders, take advantage of the best discounts and offers. All available offers are listed in the 'Apply Coupon' section of the order booking process. When ordering from Zoop India, you can save money by using discount codes 'ZOOP50' and 'ZOOP100' to get Rs. 50 and Rs. 100 off your order, respectively.
3. Pay Online
You can pay for your train food orders online, eliminating the need to carry and deal with cash payments. This option enables safe and secure transactions, saves time, and reduces the risk of cash management during your journey.
In conclusion, IRCTC's e-Catering service in partnership with Zoop India, has transformed the way passengers order food on trains. Passengers can enjoy a variety of tasty and hygienic meals from top-rated restaurants along their route, rather than limited options and questionable quality. With the added convenience like ordering via WhatsApp, ability to plan ahead of time, discounts, and online payment, passengers can enjoy a stress-free journey with enjoyable meals. So, the next time you travel by train, try IRCTC e-Catering official partner "Zoop" and enjoy a delicious meal while on the move!