Kerala has added another feather to its cap with the introduction of its first Vande Bharat Express train. This train is a delight for both locals and tourists, providing a luxurious and pleasant way of transportation. The Vande Bharat Express, commonly known as Train 18, is India's first indigenous semi-high speed train, reaching a top speed of 160 km per hour. The train will travel 651 kilometers in 8 hours between Kasaragod and Thiruvananthapuram. The Vande Bharat Express promises a comfortable and convenient travel for its passengers with cutting-edge technologies such as on-board Wi-Fi, multimedia screens, and GPS-based passenger information systems.
But there's something that will truly add delight to the journey and bring big smiles to the faces of travelers, and it is that Zoop will soon be commencing its food delivery service on board the Vande Bharat Express!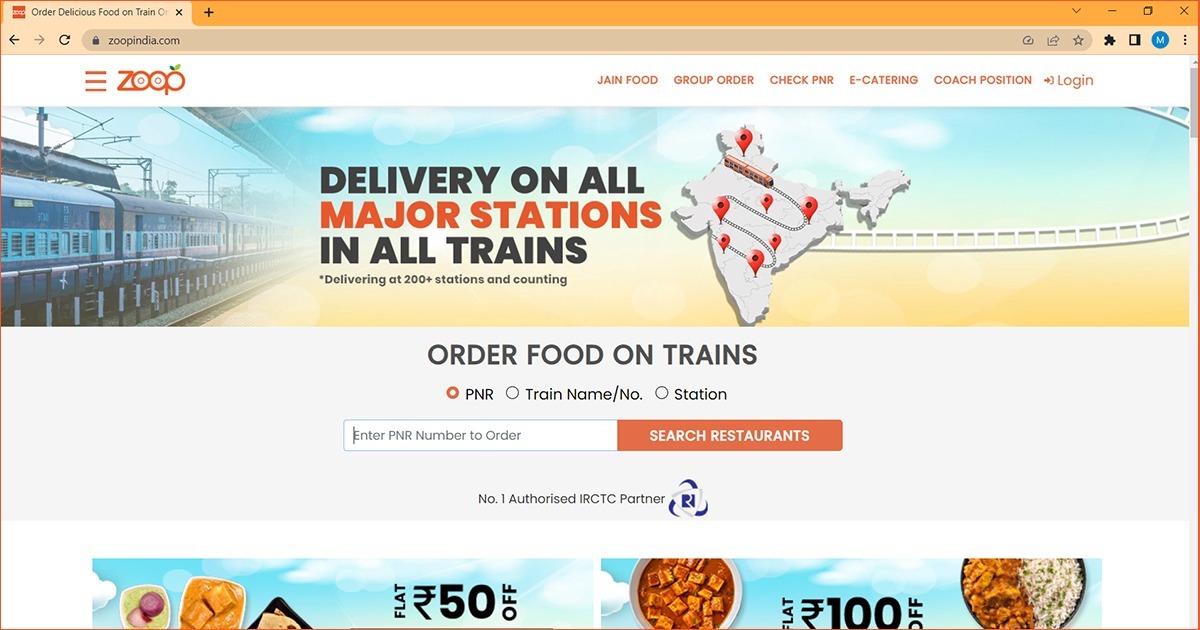 Zoop is the official IRCTC e-Catering partner. It is a food delivery platform that allows passengers to order food from the comfort of their seats using their smartphones or other devices.
As an innovative food delivery platform, Zoop India has been serving delicious and hygienic meals to railway travelers since 2015. Zoop India is dedicated to making travel a more fun and fulfilling experience for everyone with its user-friendly online ordering system and extensive network of restaurant partners.
Zoop's commitment to quality and customer satisfaction has earned them an excellent reputation amongst rail passengers. Whether you're a habitual traveler or a first-time rail passenger, Zoop India's wide menu options, simple ordering method, and prompt delivery service will make your trip ten folds more enjoyable.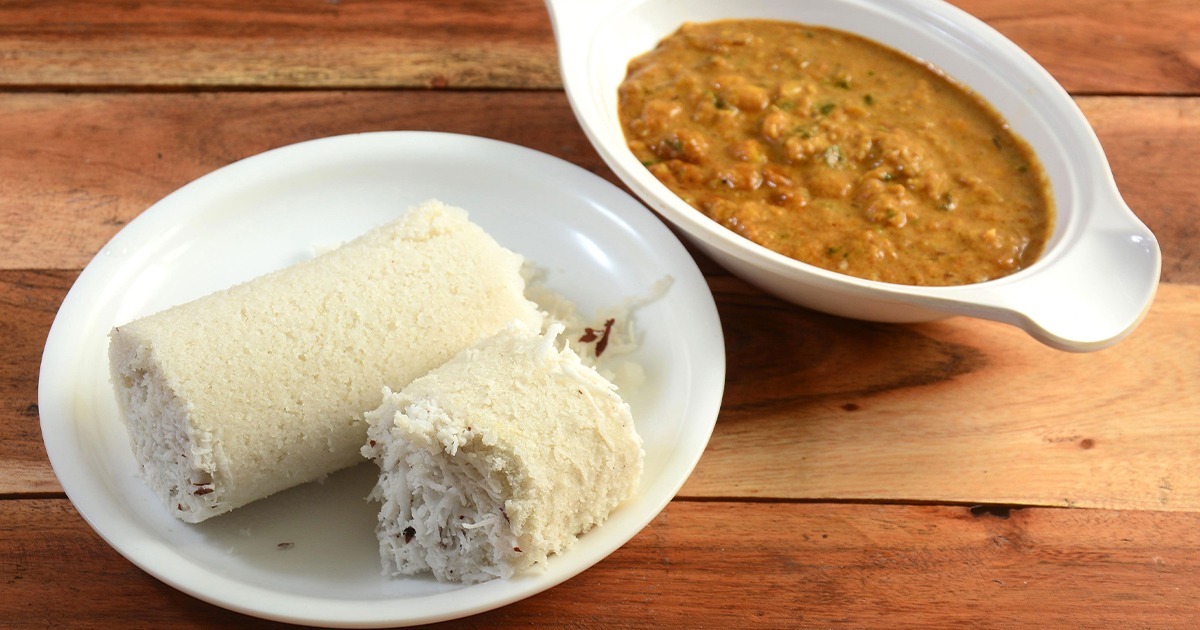 How to order food in train with Zoop:
These simple steps will guide you on how to order food in train with Zoop:
Go to the Zoop India website at https://www.zoopindia.com/.

Enter your 10-digit PNR number in the search box or select the station or train where you want the food to be delivered.
Choose from the list of available
Browse the menu of your chosen restaurant and select your desired food options. Add the food items to your cart.
Provide your name and contact information.
Confirm your order and choose to pay securely online or pay at the time of delivery. Your food order will be delivered to your train seat.
Additionally, you can also order food using Zoop's WhatsApp chatbot service called Ziva. After sharing your PNR number and choosing an upcoming station, Ziva will assist you in selecting a restaurant and placing your online food order on the train. You can track your order in real-time, and it will be handed over to you directly at your train seat. To order food in train on WhatsApp, simply send a "Hi" to Zoop at +91 7042062070.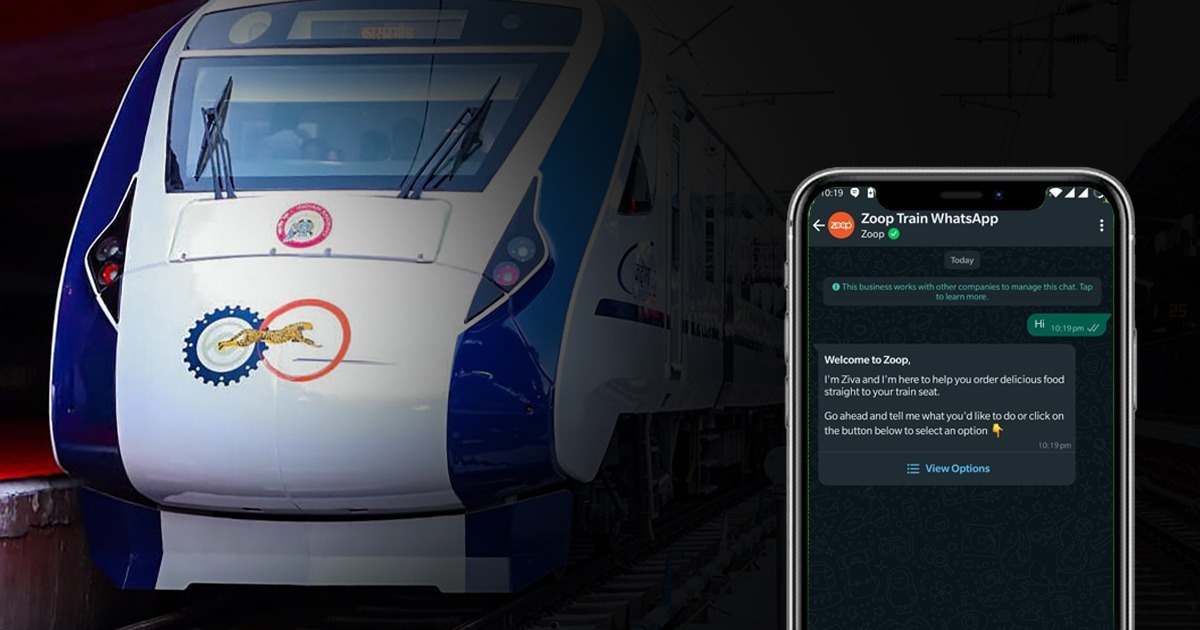 Additional features on Zoop for a hassle-free train journey
Match your dietary requirements
When you order food in train with Zoop, it allows you to specify dietary requirements for your meals. Zoop lets you order pure satvik meals on train, including pure vegetarian and Jain food thalis. To order Jain meals on train with Zoop, click here: https://www.zoopindia.com/jain-food-in-train
Order in bulk
When traveling in a group, with family or friends, arranging for food can be a big struggle. However, Zoop makes ordering food in bulk very simple. With the 'Group Order' option on Zoop, you can place one order for the entire group and have it brought to your seats, without any hassle. To order food in train in bulk with Zoop, click here: https://www.zoopindia.com/group-food-order-in-train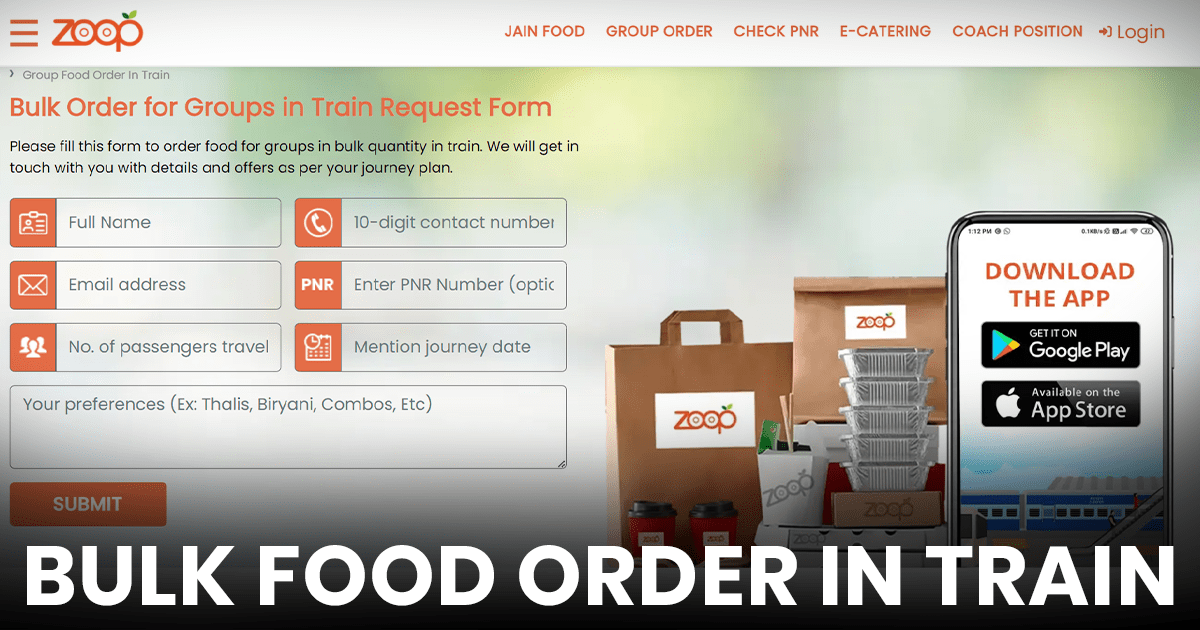 Check your train schedule
Zoop India allows you to plan your journey conveniently by letting you easily access your train schedule and status in real-time. This feature is extremely handy if your train is running late or if you want to know where your train is at all times. Click here to check your train schedule as well as other important information, like PNR number, platform location, and more: https://www.zoopindia.com/check-train-time-table.
Apply discount coupons
Zoop provides coupon codes so that your orders are not only yummy but also pocket-friendly! Use coupon codes ZOOP50 or ZOOP100 to save on your food order on Zoop.
Check latest discounts and offers on online train food bookings at Zoop Website and APP.
Conclusion
With its top-notch amenities and fast speed, the Vande Bharat Express train is sure to impress a lot of folks! And now, with Zoop about to jump on the wagon with its food delivery service, the journey is about to get even more exciting! From ordering food in bulk to customizing meals to match your dietary preferences, ordering meals on train with Zoop is as easy as a breeze. So sit back, relax, and let Zoop take you on a flavorsome ride on your next train journey!

Read More About: Vande Bharat Express from Gandhinagar to Mumbai