Train journey in India is an unforgettable experience. It is about more than just getting to your destination, it's about taking in the scenery, meeting new people, and, most importantly, indulging in the local food. However, getting authentic regional meals on train might be difficult. That's where Zoop India comes in! Zoop is an incredible platform that delivers tasty and hygienic regional cuisine from top-rated restaurants along your train journey, right to your railway seat!
Try yummy food in train with Zoop
Zoop India is an innovative platform that provides railway passengers with a wide range of regional culinary selections. Zoop has tied up with several restaurants and food outlets across the country to provide the best of regional cuisine, delivered to your railway seat. Whether you're in a sleeper class or an AC coach, you can order delectable meals on train from Zoop, and treat yourself to a food festival on your long train journey!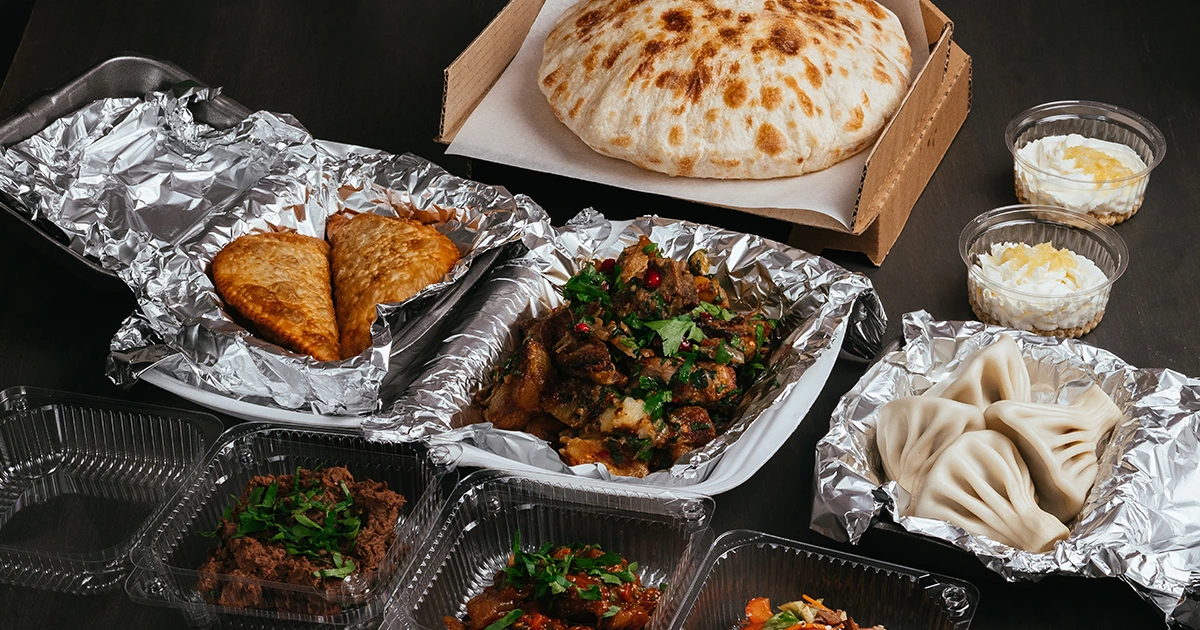 From North Indian delights like Chole Bhature and Butter Chicken to South Indian favorites like Masala Dosa and Idli-Sambar, Zoop India has something for everyone. You can also try regional specialties like Biryani from Hyderabad, Misal Pav from Mumbai, and Litti Chokha from Bihar. 
How to order food in train with Zoop
To order food in train with Zoop, follow these simple steps:
Visit the Zoop India website:

https://www.zoopindia.com/

.

In the search box, enter your 10-digit PNR number, or select the station or train where you want food delivered.

You will find a list of available restaurants. Pick a restaurant as per your preferences.

Once you've decided on a restaurant, you can browse its menu to select your desired food options.

Add the food items to your cart.

Enter your name and contact information.

After you've confirmed your order, you can pay securely online or you can choose to pay at the time of delivery. Your order will be delivered to your train seat.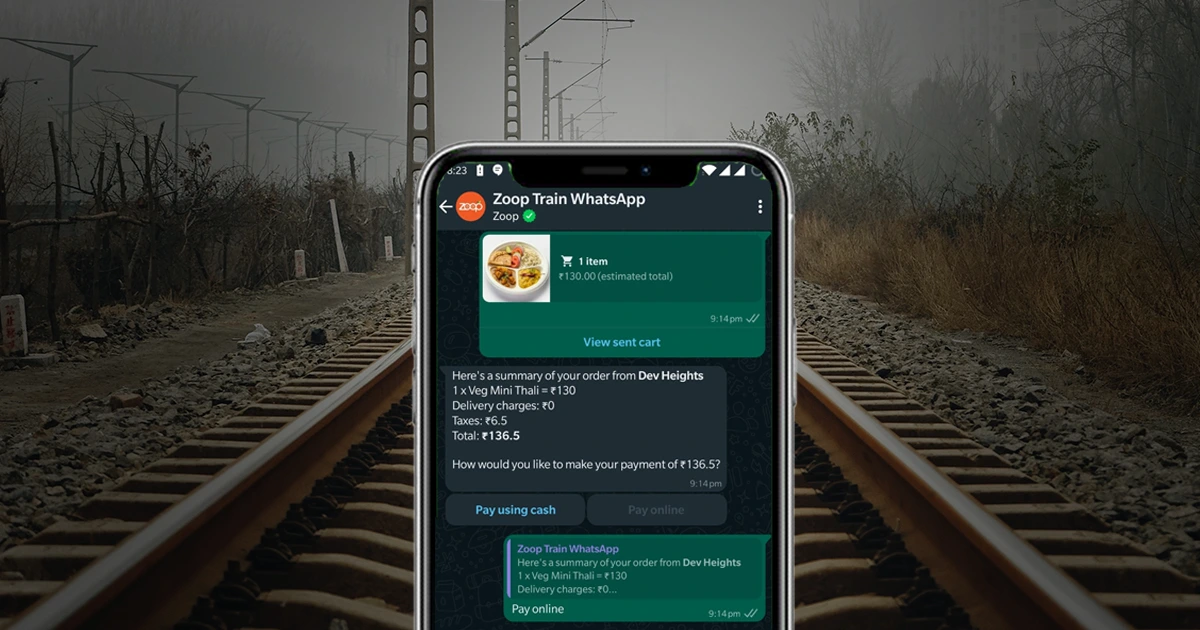 Additionally, with Zoop, you can also place your food order using WhatsApp. Zoop provides a WhatsApp chatbot service named Ziva that streamlines the ordering process. Ziva will assist you in choosing a restaurant and placing your online food order on the train, after you share your PNR number and choose an upcoming station. Real-time order tracking makes sure that your food will be waiting for you at the following station. Send a "Hi" to Zoop on WhatsApp at +91 7042062070 to order food in train on WhatsApp.
Set your dietary preferences with Zoop
When you order food in train with Zoop India, you can also define your dietary preferences. Zoop can accommodate your needs and give you food options that fit your preferences, whether you are vegetarian, or are looking for strict Jain Meals without onion or garlic, Zoop can get it done for you! Click here to order Jain meals on train with Zoop: https://www.zoopindia.com/jain-food-in-train.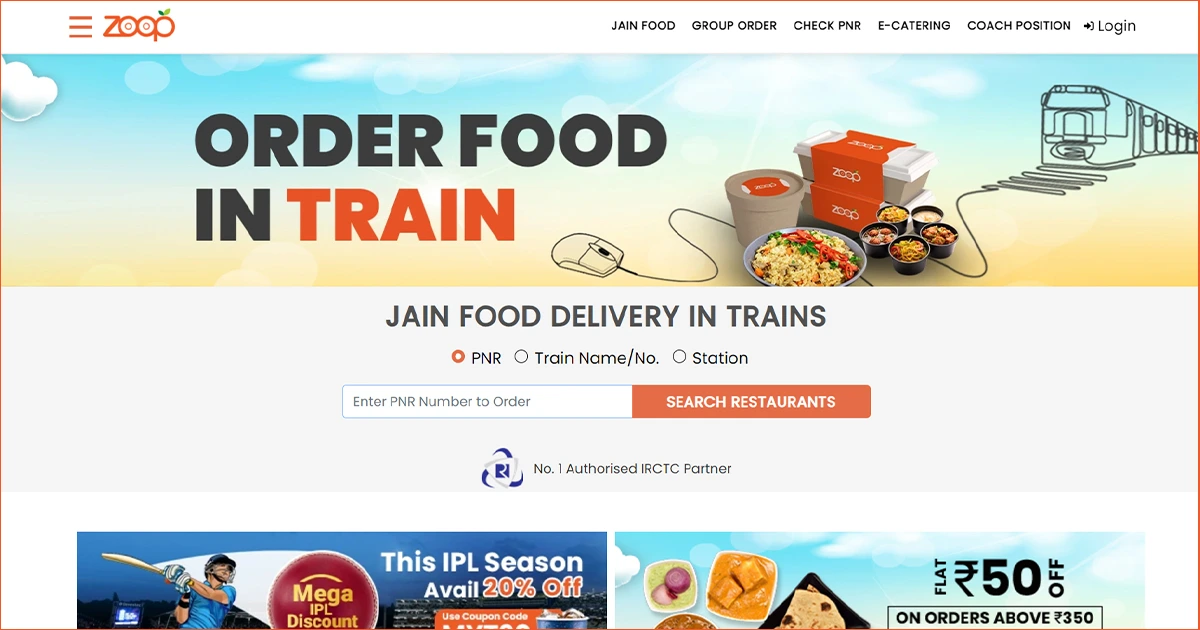 Order food in bulk with Zoop
When traveling in a group, ordering meals on the train can be difficult, especially for a train travel group. You can place one order for the entire party and have it delivered to your seats using Zoop's group order option. This makes ordering meals in the train quick and easy, saving you time and effort. Click the link to place your Group Order: https://www.zoopindia.com/group-food-order-in-train.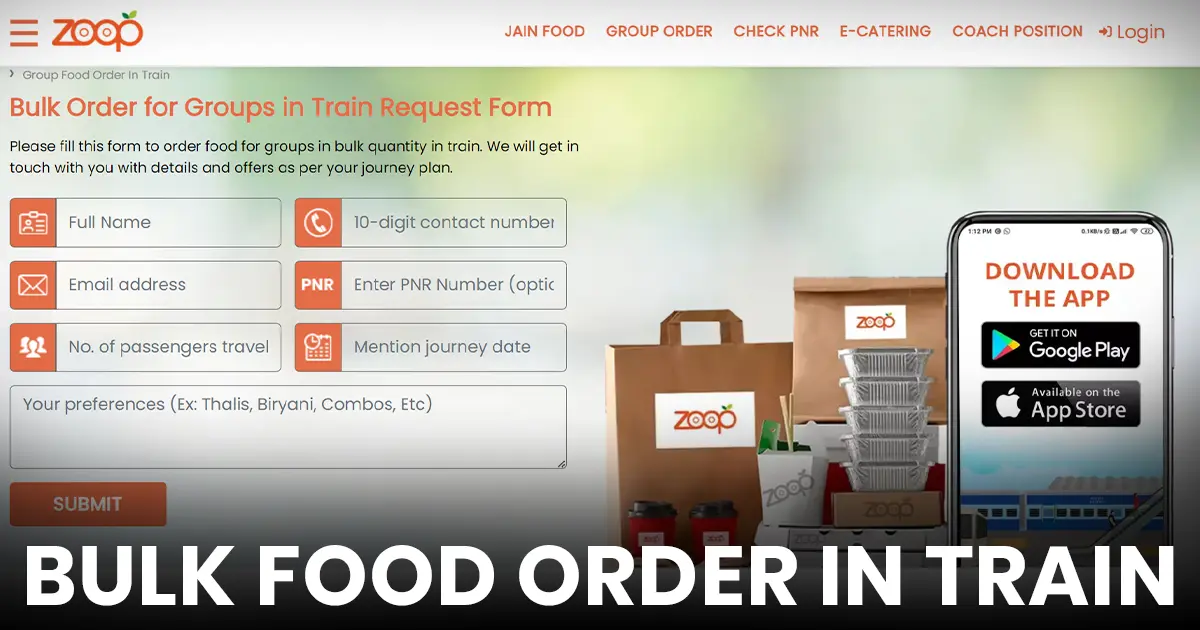 Conclusion
Train journeys in India are an adventure that should be enjoyed with all of your senses, especially your taste buds. With Zoop, you can elevate your train travel by ordering real regional cuisine from top-rated restaurants and having it delivered right to your seat. Whether you're traveling alone or with a party, Zoop has you covered with its simple ordering method, accommodation of dietary preferences, and group order option. So sit back, relax, and soak in the landscape while Zoop caters to your taste buds on your train journey.