Are you a Jain follower seeking pure vegetarian jain food in train for your upcoming journey? Your search has come to an end! The official IRCTC e-Catering partner, Zoop India is your answer for convenient online delivery of delicious and authentic Jain meals. Now you can travel in peace, knowing that the most flavorful vegetarian foods will be delivered directly to your train seat with just a few taps! Zoop promises an enjoyable dining experience with a carefully curated selection of reputed restaurants that deliver pure Jain meals.
About Zoop India
Zoop India, which was founded in 2014, has quickly established itself as a leading choice among Indian railway passengers for ordering food in trains. Customers may browse menus, place orders, and track deliveries in real-time using Zoop's incredibly user-friendly platform. Zoop offers a seamless and convenient experience for its users by providing several payment alternatives, including cash on delivery and online and mobile wallet payments. Zoop, in collaboration with hundreds of restaurants, offers a varied choice of cuisines and dishes to suit a variety of tastes. The platform also provides compelling promotional discounts and cashback packages, which appeal to budget-conscious foodies. Zoop prioritizes hygienic procedures to ensure that all food is made and delivered in a safe and sanitary way, as part of its commitment to upholding high health and safety standards.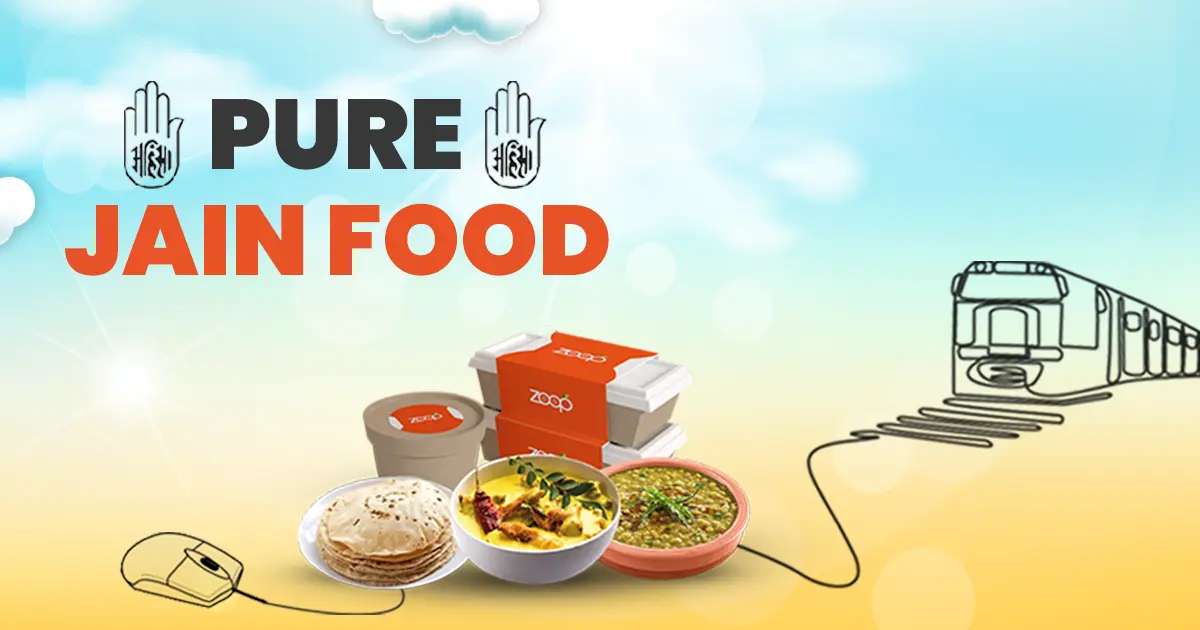 Ordering Jain food in train with Zoop
It has always been difficult to find or order Jain food in trains, but Zoop has made it extremely simple and convenient. To order Jain food in train, hassle-free, follow these simple steps:
Download the Zoop India mobile app from the

Google Play Store

or the

Apple App Store

, or visit the Zoop India website. You can also choose to order food in Train on WhatsApp at +91-7042062070.

Enter your 10-digit PNR number or train details to view the Jain food menu for your train.

Browse the list of displayed restaurants on the Zoop app/website and look for the "Jain Food" option.

Select your preferred Jain dishes from the selected restaurants.

Add the items to your cart & proceed to check out.

Enter your delivery information.

Make the payment online or opt for cash on delivery.

After confirming your order, you will receive a notification with important delivery information.
By following these easy instructions, you can have tasty and reliable Jain food delivered to you at your train seat. 
Additional benefits of using Zoop during your train journey
Zoop India allows you to make your train journey more effortless with special benefits that you will get nowhere else! Let us review some of these perks: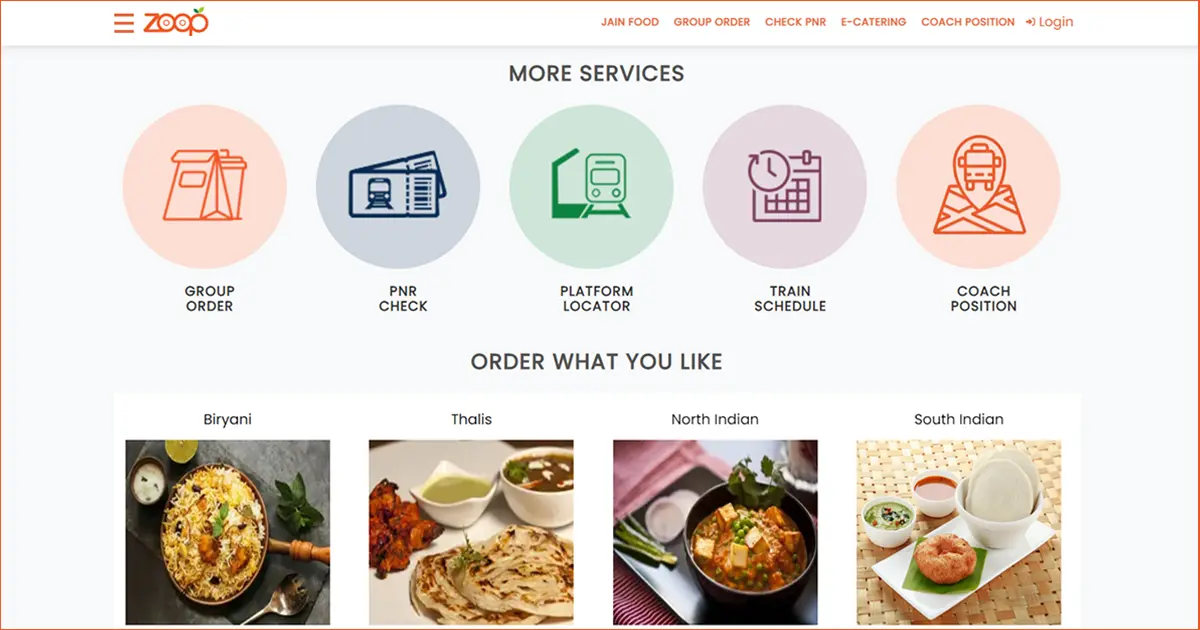 Order in advance
It is critical to schedule your meals ahead of time while traveling large distances by train. You can purchase food online and have it delivered to your seat at a convenient time during your trip with Zoop. You can also apply coupon codes ZOOP50 or ZOOP100 to make your orders more pocket-friendly. 
Order in bulk 
When traveling in a group, ordering food on train can be difficult. You can place one order for the entire party and have it delivered to your seats using Zoop's group order option. This makes ordering food on train quick and easy, saving you time and effort. Click the link to place your Group Order: https://www.zoopindia.com/group-food-order-in-train.
Check your train schedule
Zoop India allows you to plan your journey conveniently by letting you easily access your train schedule and status in real-time. This feature is extremely handy if your train is running late or if you want to know where your train is at all times. Click here to check your train schedule as well as other important information, like PNR number, platform location, and more: https://www.zoopindia.com/check-train-time-table.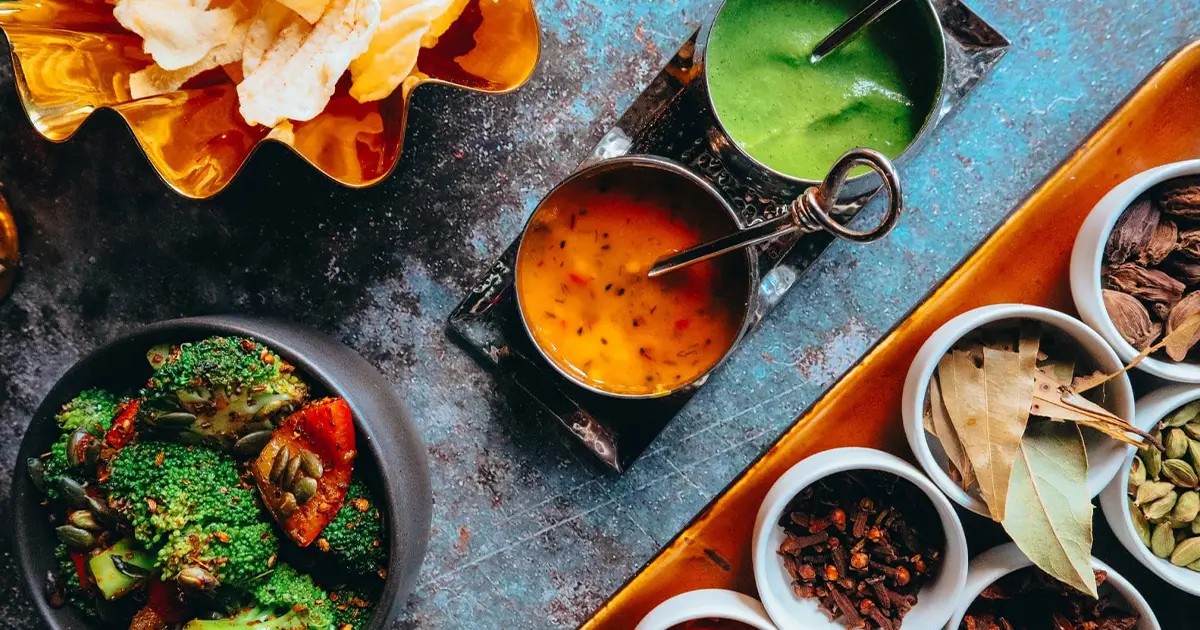 Conclusion
By choosing Zoop India, Jain followers can enhance their train journeys with excellent meals and a streamlined food ordering experience!