All aboard the flavor train! Are you sick of the bland train food that makes your taste buds snooze off? Prepare yourself for a unique culinary experience for your upcoming train journey! Imagine yourself settling into your train seat as the sound of the rhythmic train wheels and the soon-to-arrive aroma of a mouthwatering meal enter the air. Yes, fellow foodies, we are about to reveal the secret for turning your upcoming train trip into a culinary experience!
Imagine a setting where you could order your preferred meals on train before even boarding it. There will be no more regrettable lunch selections or growling tummies while you longingly observe the passing scenery. In this blog, you'll discover how to successfully pre-book your preferred dishes, ensuring a scrumptious experience that will make other passengers green with envy!
From Indian classics to international delights, your favorite flavors can now be summoned easily on demand for an unforgettable travel experience.
Meet your new train food fairy – Zoop India
Prepare for a wonderful travel experience on your upcoming train journey with Zoop India, your ultimate train food fairy. Since its inception in 2014, Zoop India has reached new heights and established itself as India's preferred online food delivery service. And believe us when we say that they have all the necessary ingredients to make your train ride a delicious experience!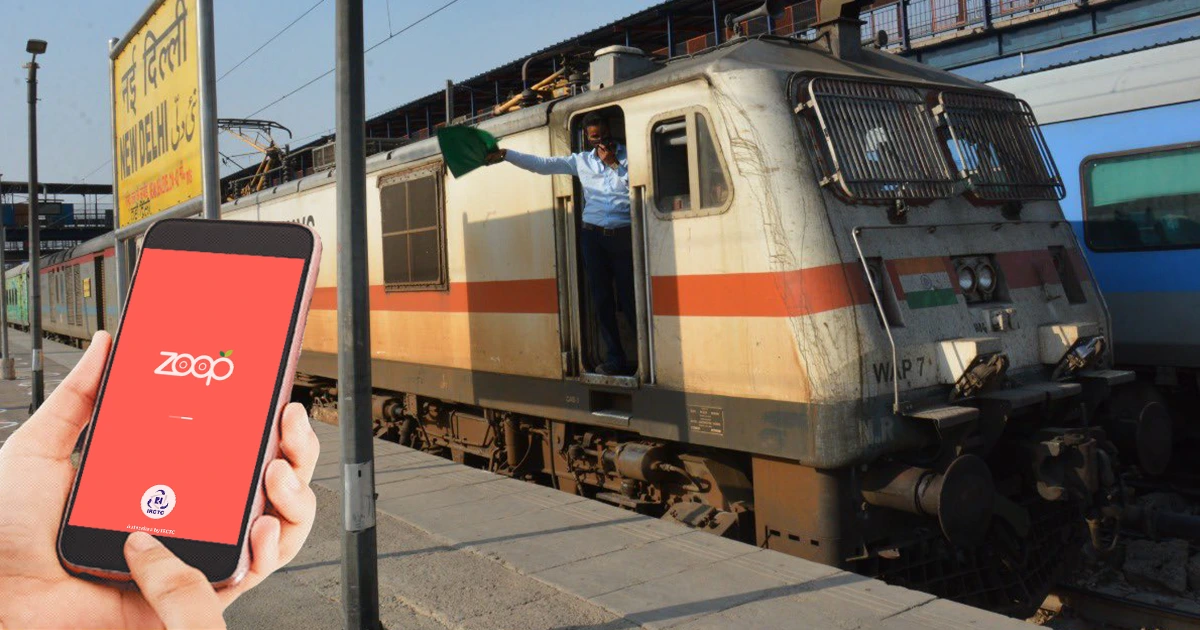 You can put an end to the days of enduring boring meals on train with Zoop India. With this exceptional service, you can easily order food from your preferred restaurants and have it delivered right to your seat. Imagine enjoying a sizzling biryani or savoring a crisp dosa while admiring beautiful scenery outside your window. 
Zoop India has a wide variety of options to suit every taste. You can choose from a variety of delicious Indian dishes, delightful snacks, and energizing drinks with Zoop. And the icing on the cake? By using discount coupons like ZOOP50 or ZOOP100, you may even add a little pocket-friendly magic to your orders.
Additionally, all the restaurants on Zoop are FSSAI-certified and IRCTC-approved, ensuring that your train food arrives from kitchens that follow strict hygiene protocols. So, you enjoy your meals on train with peace of mind, knowing that they are prepared with utmost care and cleanliness.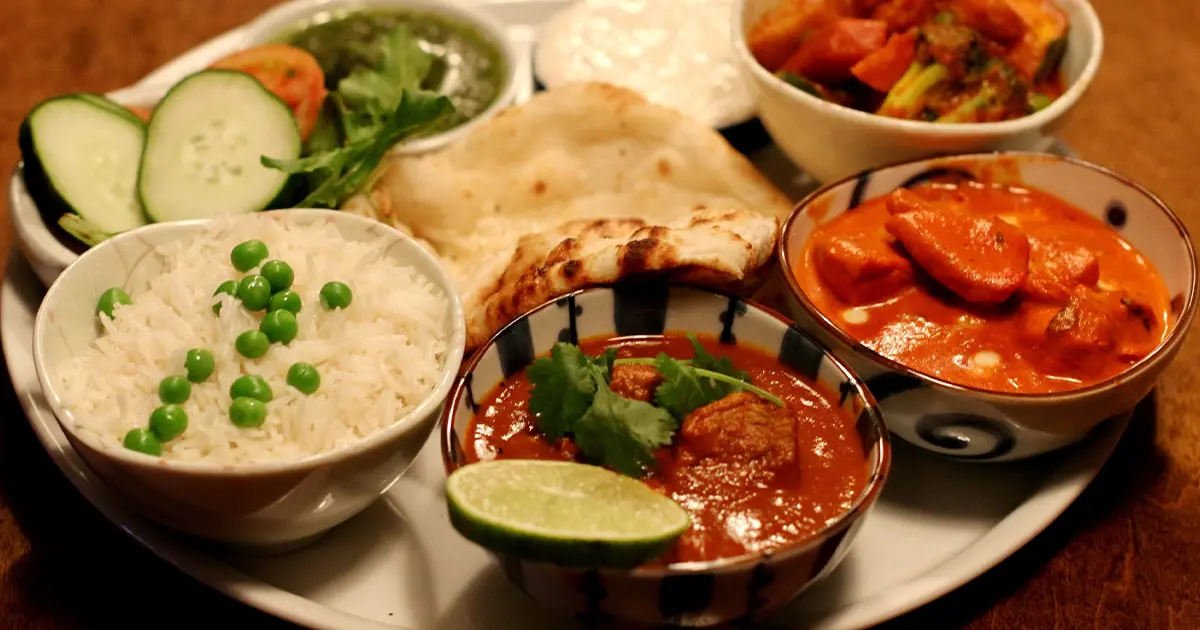 Whether you are a vegetarian or have specific dietary requirements, Zoop India has got you covered. Zoop allows you to define your dietary preferences, making sure the options presented to you match your needs. For instance, if you are looking to order tasty and reliable Jain Food in train, you can use  Zoop and experience culinary satisfaction that aligns perfectly with your preferences.
How to order food in train with Zoop?
To order food in train with Zoop, follow these simple steps:
Visit the Zoop India website:

https://www.zoopindia.com/

.

In the search box, enter your 10-digit PNR number, or select the station or train where you want your food delivered.

You will find a list of available restaurants. Pick a restaurant as per your preferences.

Once you've decided on a restaurant, you can browse its menu to select your desired food options and add the food items to your cart.

Enter your name and contact information.

After you've confirmed your order, you can pay securely online or you can choose to pay at the time of delivery. Your order will be delivered to your train seat.
Additionally, with Zoop, you can also place your food order using WhatsApp. Zoop provides a WhatsApp chatbot service named Ziva that streamlines the ordering process. Ziva will assist you in choosing a restaurant and placing your online food order on the train, after you share your PNR number and choose an upcoming station. Real-time order tracking makes sure that your food will be waiting for you at the following station. Send a "Hi" to Zoop on WhatsApp at +91 7042062070 to order food in train on WhatsApp.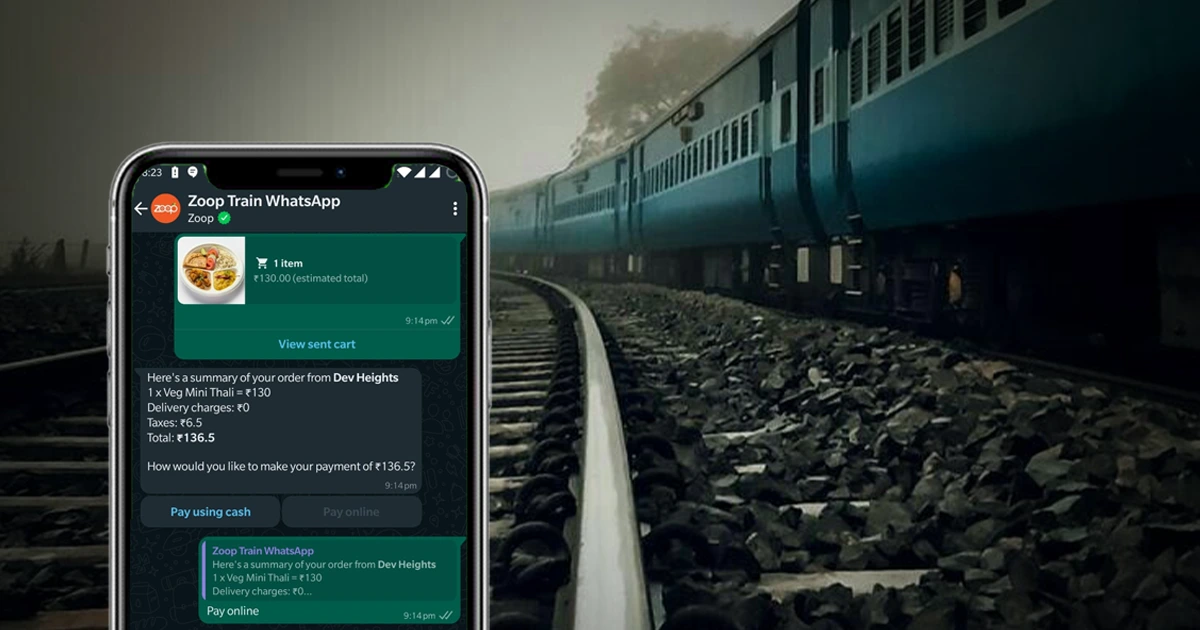 In conclusion, whether you are embarking on a short adventure or a long-distance journey, let Zoop India be your culinary companion for your upcoming train journeys. Get ready to indulge in a sumptuous blend of flavors and aromas that will transform your upcoming train journey into an unforgettable gastronomic experience. Bon appétit and Happy Journey!