Traveling by train can be thrilling, but it can also be tedious at times, especially when it comes to food. Food availability and quality on trains can vary greatly, making it difficult to find anything that suits your taste and dietary restrictions. That's where Zoop India comes in – India's most dependable train meal ordering service.
Meet Zoop – Your train best friend
Zoop India is the leading online food delivery service for Indian Railways. IRCTC's official e-catering partner, Zoop specializes in providing yummy and hygienic food to train travelers. By offering a wide variety of culinary choices, from Indian delights to international specialties, Zoop ensures a delightful train journey every time!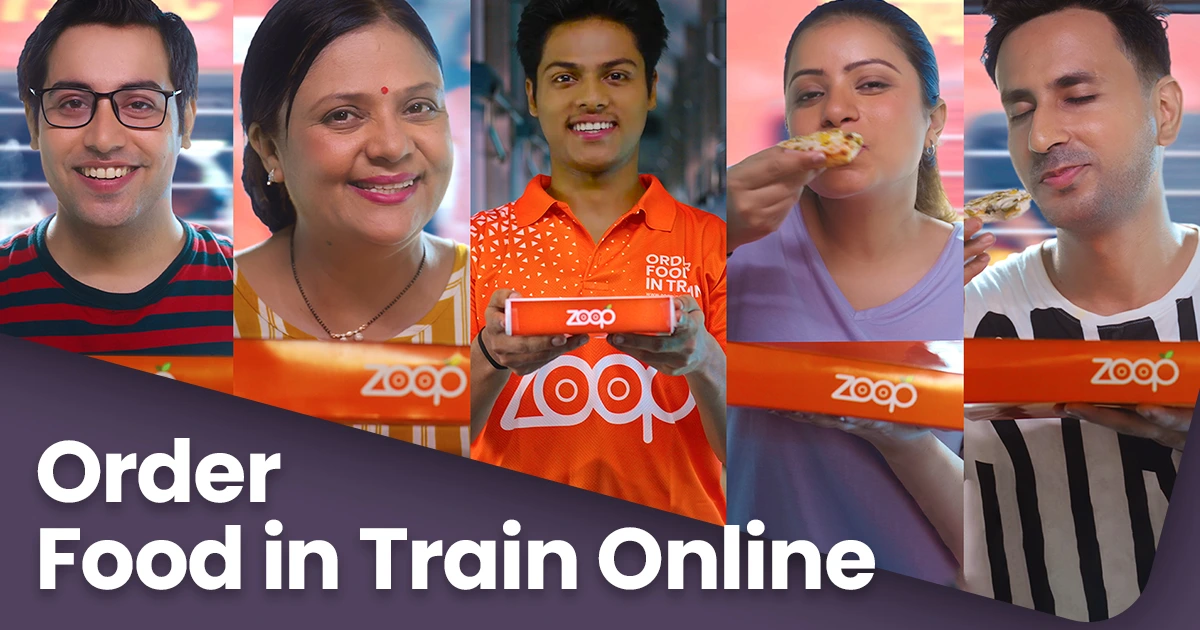 Ordering Food in Train with Zoop India
Ordering food in train with Zoop is a hassle-free process. Here's how it works:
Visit Zoop India's Website:
Go to https://www.zoopindia.com/ to get started.
Enter Your Details:
In the search box, provide your 10-digit PNR number or select the station or train where you want your food delivered.
Select a Restaurant:
You'll find a list of available restaurants. Choose the one that suits your preferences.
Browse the Menu:
Once you've picked a restaurant, explore its menu, select your desired food items, and add them to your cart.
Provide Your Information:
Enter your name and contact details for delivery.
Secure Payment:
Confirm your order and make a secure online payment, or opt to pay at the time of delivery.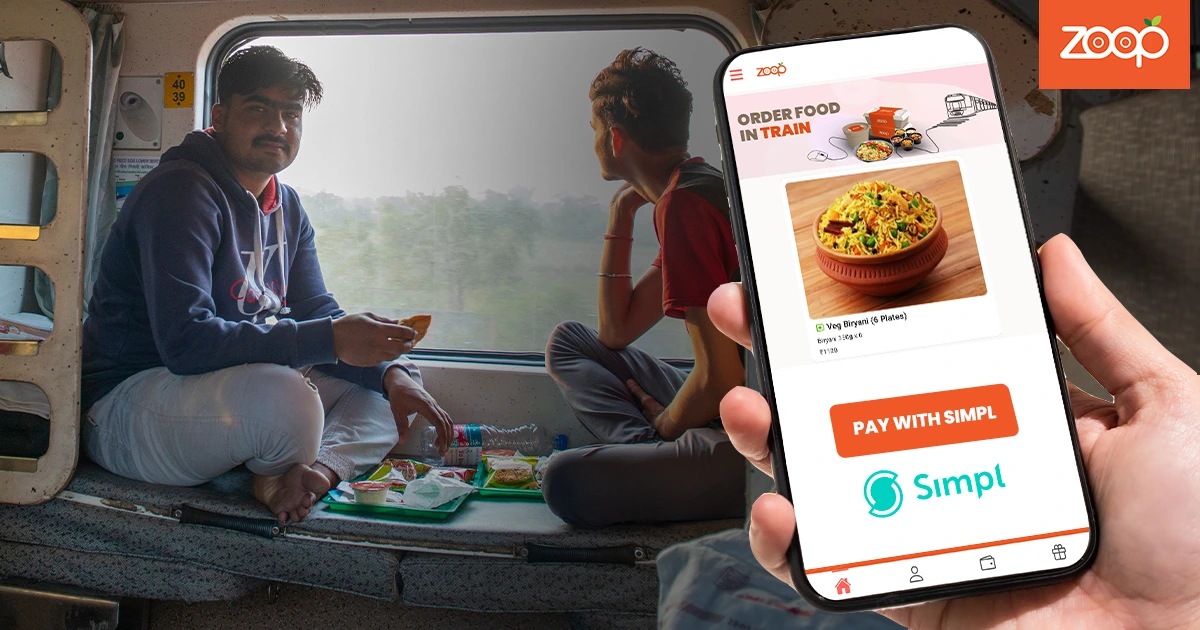 Enjoy Your Meal:
Your selected food will be delivered right to your train seat.
Additionally with Zoop, you can also order food in train via Whatsapp and Instagram. 
Ordering meals on train on WhatsApp
Zoop provides a WhatsApp chatbot service named Ziva that streamlines the process for ordering meals on train. Ziva will assist you in choosing a restaurant and placing your online food order on the train, after you share your PNR number and choose an upcoming station. Real-time order tracking makes sure that your food will be waiting for you at the following station. Send a "Hi" to Zoop on WhatsApp at +91 7042062070 to order food in train with ease.
Order meals on train using Instagram
Zoop India allows passengers to order food in train on Instagram with great convenience, by providing an Instagram chatbot service named Ziva that streamlines the ordering process. Simply send a direct message to @ZoopFood to get started.
Benefits of having Zoop India as your train best friend
Reduced Ticket Prices:
Save money by choosing the "no meal" option when booking your train ticket. Zoop offers discounts, such as the "ZOOP100" coupon code, giving you Rs. 100 off on your train food order. Explore all available offers on Zoop: https://www.zoopindia.com/offers 
High-Quality Food:
Say goodbye to subpar train meals. Zoop delivers food from top-rated FSSAI-approved restaurants, ensuring both hygiene and quality.
Order in Advance:
Plan your meals ahead of time, especially on long journeys.
Set Dietary Preferences:
Zoop caters to your dietary needs, whether you're vegetarian, vegan, or have specific dietary requirements. If you're looking for pure Jain meals on train, Zoop has you covered. Click here to order Jain food in train with Zoop: https://www.zoopindia.com/offers 
Order in Bulk: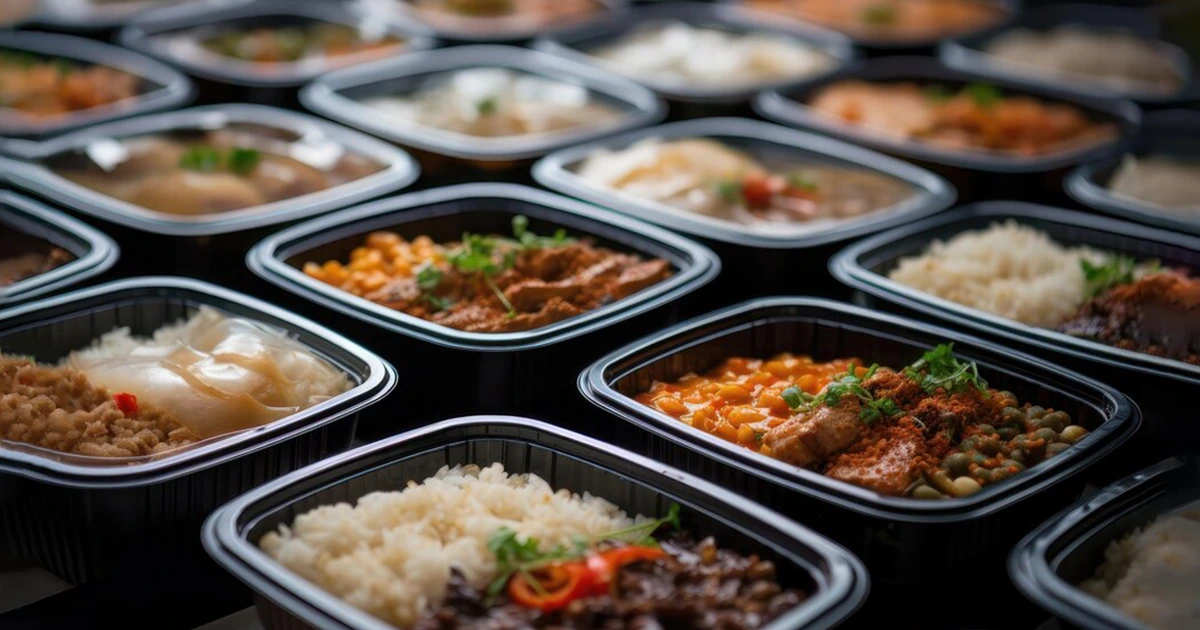 Traveling with a group? Zoop's group order option streamlines the process, saving you time and effort. Click here to order food in train in bulk: https://www.zoopindia.com/group-food-order-in-train 
Check Your Train Schedule:
Zoop India offers real-time access to your train schedule and status, making it easier to track your journey. Click here to check your train schedule: https://www.zoopindia.com/check-train-time-table 
PNR Status Check:
Easily check your PNR status, providing vital information about your seat/berth and coach in advance. Click here to check your PNR status: https://www.zoopindia.com/check-pnr-status 
Platform Locator:
Quickly find your train's platform number before you reach the station, saving you time and reducing stress. Click here to check your platform location: https://www.zoopindia.com/check-platform-number-position 
Coach Position:
Locate your coach position with ease on the railway station platform, streamlining your boarding process. Click here to check your coach position: https://www.zoopindia.com/check-train-coach-position 
Conclusion
Zoop India is transforming the railway experience for Indian travelers with its user-friendly platform, variety of cuisine options, and additional services that enhance convenience, making it the ultimate train best friend!
So, the next time you embark on a train journey, let Zoop take care of your culinary needs and enjoy a hassle-free travel experience. Visit Zoop website to get started today!