Are you sick of boring, unappealing food on trains? IRCTC e-catering is your ticket to delicious meals on the go! You can enjoy food delivery in trains from top-rated restaurants along your train route, delivered right to your train seat using IRCTC e-catering.
Here are the steps to order food online with IRCTC e-catering:
Visit the IRCTC e-catering website or download the app
Enter your train information
Browse through the restaurant options and menus
Select your preferred dishes, including vegetarian and non-vegetarian options, Indian and international cuisines, and special meals for dietary restrictions
Place your order
Track your order in real-time and receive delivery time updates
Choose to pay online or upon delivery
You can now enjoy delicious meals and snacks, prepared in sanitary kitchens and delivered right to your seat during your train journey!
Ordering food in train using WhatsApp
With the introduction of a new service that allows you to order food in train on WhatsApp, Indian Railway passengers can now enjoy hassle-free food delivery in trains.
The e-catering services will initially be implemented in two stages via WhatsApp communication.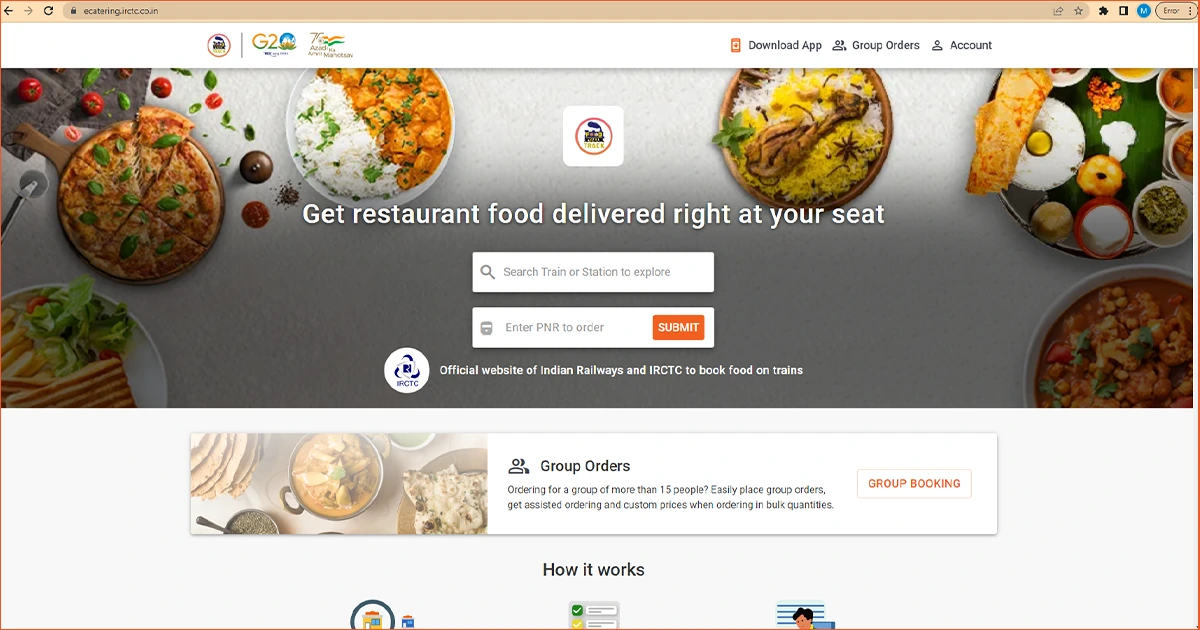 1st stage of IRCTC e-Catering WhatsApp Service
In the first stage, the Business WhatsApp number will send a message to customers who have purchased e-tickets, asking them to choose e-catering services by visiting www.ecatering.irctc.co.in. Customers can book meals from restaurants of their choice available at stations en route directly through the IRCTC e-catering website, without even having to download the app.
2nd stage of IRCTC e-Catering WhatsApp Service
The number will become an interactive two-way communication platform for customers in the second stage of e-catering services via WhatsApp, where an AI-powered chatbot will handle all e-catering service queries and also book meals for them.WhatsApp communication for e-catering services is currently being implemented on selected trains and passengers. Railways will enable the same feature on other trains based on customer feedback and suggestions.It's worth noting that the IRCTC's e-catering services, accessible via its website and app, already serve around 50,000 meals per day to railway passengers. This figure is expected to rise even further with the introduction of the option to order food in train on WhatsApp.Overall, the use of WhatsApp for e-catering services is a significant step towards making train travel in India more comfortable and convenient for passengers. It's a move that millions of people who travel by train in the country will undoubtedly appreciate.Zoop, a food delivery app launched by IRCTC in collaboration with Jio Haptik, allows passengers to order food on train via WhatsApp without the need to download any app or software. To use the service, passengers must simply enter their passenger name record (PNR).

Order food in train on WhatsApp with Zoop 
Prepare for a delicious train ride with the Zoop App! There will be no more monotonous and unsanitary food options at the station. Zoop now allows you to order delicious meals via WhatsApp while on the train. All you need to do is send "Hi" to Zoop at  +91 7042062070 on WhatsApp, provide your PNR number, and choose the station where you want your food delivered.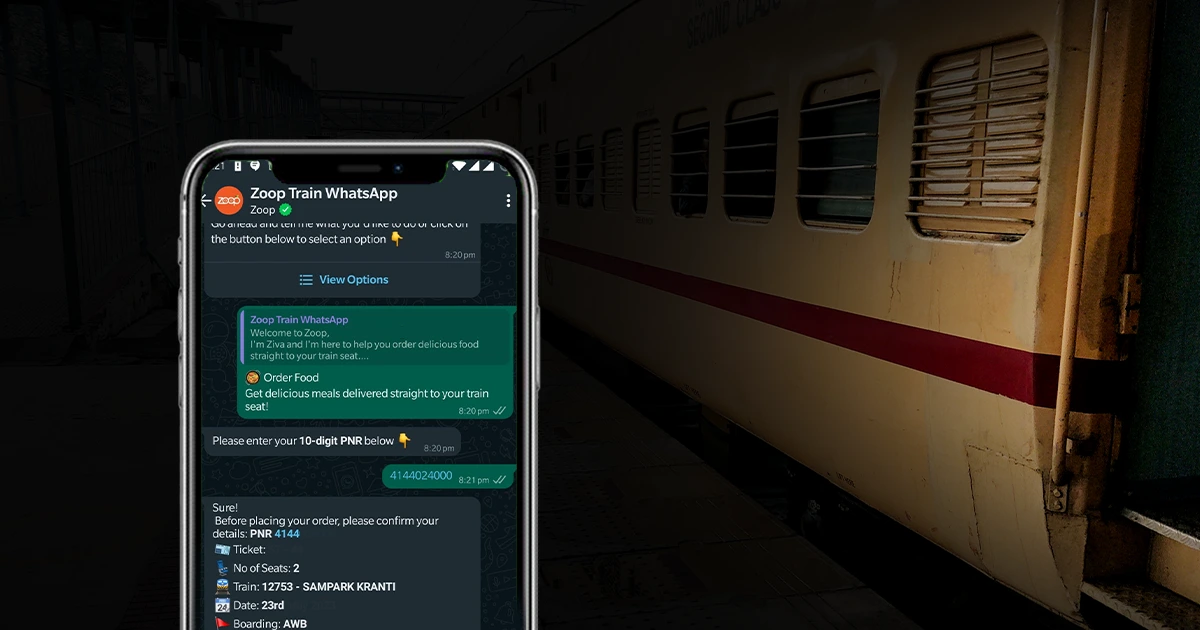 The Zoop App offers a wide variety of culinary options, including Indian and international fare. You can even narrow down your restaurant choices based on dietary restrictions. What's more, the best part? You can save money by using discount codes ZOOP50 and ZOOP100 to get Rs. 50 and Rs. 100 off your order, respectively.
Zoop provides a seamless experience from order to delivery, and you can even track and pay for your food delivery in train via WhatsApp. Zoop's restaurants are all FSSAI-certified, so you can eat with confidence knowing that your meals are prepared in sanitary kitchens.
If you're traveling in a group, Zoop's bulk ordering option is ideal. Simply enter your PNR number into the 'Group Order' feature to place an order for all passengers.
Zoop also lets you check your PNR status and train Coach position, making your train journey even more enjoyable. Say goodbye to boring train lunches and hello to a world of flavors with delicious food on train with the Zoop App!