Train is a popular and affordable mode of transportation in India. Verifying the PNR status or checking the coach position of your train can be stressful. You can now easily check PNR status and track your train coach position anytime without going through the process of PNR enquiry with the Zoop mobile app, a user-friendly mobile application that caters to the needs of train travelers. Simply enter your 10-digit PNR number, and the app will display your PNR status and train's current status, including details like seat number, coach number, and train coach position.
Here are the steps to follow while using the Zoop app or website to check your PNR status, train coach number, coach position, and platform number:
Step 1: Download the Zoop app from the Google Play Store. You can download the app directly by clicking on this playstore link: https://play.google.com/store/apps/details?id=com.zoop.zoopindiaservice

Step 2: Once you have downloaded the app, open it and navigate to the PNR status and train coach position tracking section.
Step 3: To check your PNR status, enter your 10-digit PNR number and click on "Check Status." The app will display your train's current status, including details like seat number and coach number.
Step 4: To check your train coach position, enter your train name or train number in the search box and click on 'Search'. The app will display the coach position, time table and platform location. This feature is especially useful for travelers who want to stay informed about their route so they may schedule their meals and other activities accordingly.
As you are checking the details of your train ride, don't forget to also explore the wide range of tasty and hygienic meal options from FSSAI approved restaurants that you can order from Zoop to make your journey even more delectable! With Zoop, you can have tasty food delivered from prominent restaurants along your route, straight to your seat in the train. To order meals for delivery in train at your seat, you can go to the Zoop India website: https://www.zoopindia.com/ . Enter your PNR number, select your train, and start exploring the endless variety of mouthwatering menu items from renowned FSSAI approved eateries. You can choose to either pay online or pay cash on delivery.
Zoop India's website comes with a simple and easy-to-use interface, making ordering food in trains completely hassle-free. It also allows you to follow the progress of your order and receive real-time information on meal delivery.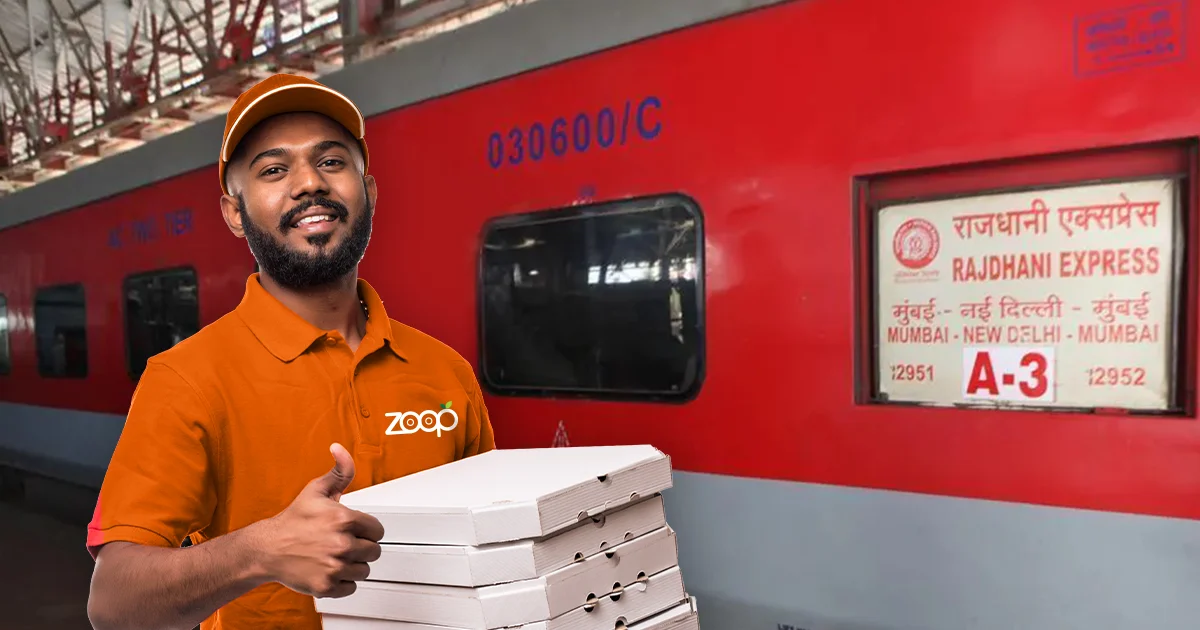 Zoop also gives you the option to order food through WhatsApp, making food delivery at railway stations exceedingly simple! To order food on the train from Zoop using WhatsApp, simply send a WhatsApp message "Hi" at +91-7042062070 with your PNR number, train information, and food preferences. The rest will be handled by Zoop, who will also bring your meal to your seat.
With Zoop, you can guarantee that your meal will arrive on time and that you won't have to go without eating while traveling. It enables you to place a meal order in the train up to two hours before your anticipated arrival time. It also lets you order as per your personal preferences. For example, you can filter your search options to pure vegetarian and Jain food to match your dietary requirements.

Gone are the days when you had to rely on unsanitary and boring food options at railway stations to get you through your train journey. The world of flavours is at your fingertips with Zoop, where you can find the perfect match for every culinary craving! Dishes like Biryani, Dal Makhni, Shahi Paneer, GulabJamun, Jain Food, Sambhar Dosa, Navratri Special Thali, Chinese, Burgers and Pizza are just a few options in many that Zoop can provide you on your train journey!
Download the Zoop App today for a hassle-free train travel experience. Not only can you check your train coach position and PNR status using Zoop in a quick and easy process, but you can also use the app to order delicious food from top restaurants and have it delivered to your train seat. Make every journey memorable with Zoop!